Andrea Rathert-Schützdeller:
Picture "Come on, dare" (2022)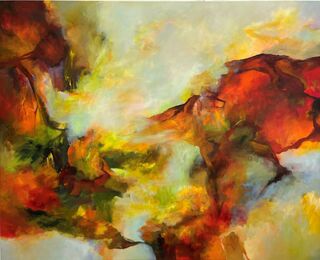 Andrea Rathert-Schützdeller:
Picture "Come on, dare" (2022)
Quick info
Acrylic | Canvas, stretched on stretcher frame | Format 130 x 160 cm (H/W) | picture hang up | signed certificate of authenticity
Delivery time: approx. 2 weeks
Detailed description
Picture "Come on, dare" (2022)
In this work, the power of color unfolds in an abstract visual language, which uses the elements of surface and line and is particularly impressive through the large canvas. An invitation to take a risk, to defy the adversities of life and to master life full of verve.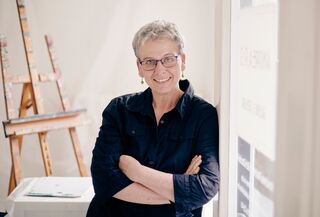 About Andrea Rathert-Schützdeller
Born in 1960 as a child of the Ruhr area, Andrea Rathert-Schützdeller has been living and working as a freelance artist, lecturer and author in Essen since 2007.
The focus of her artistic work is on abstract - mostly informal - acrylic painting, which she presents in solo exhibitions and exhibition participations at home and abroad. The impetus and inexhaustible basis for the abstract works of the artist are scenic impressions, everyday encounters, emotions and perceptions. She transforms the resulting themes into expressively designed color zones, some of which overlap, merge with each other or strongly delineate. Andrea Rathert-Schützdeller succeeds in translating her inner images into ever new languages of color and form, foregoing an immediately recognizable painting style in favor of a multifaceted mode of representation. Her works open up their very own imaginative spaces for the viewer, in which he or she can trace the artist's intended intention or discover stories all their own.