Anja Struck:
Picture "happy on the road" (2022)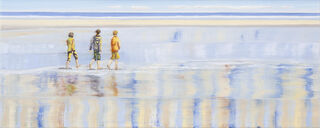 Anja Struck:
Picture "happy on the road" (2022)
Quick info
Oil | Canvas, stretched on stretcher frame | Format 40 x 100 cm (H/W) | picture hang up | signed certificate of authenticity
Delivery time: approx. 2 weeks
Detailed description
Picture "happy on the road" (2022)
They stroll together in the shallow water. Barefoot, jacket on - surely it's a somewhat windy day. A typical day at the North Sea? Three children who are together at the sea. A small community that enjoys togetherness, but also the environment, the sea, the beach, the joy of walking barefoot through the water. The colors of the picture are bright and friendly. The people are somewhat blurred, which reinforces the impression of wind. Does the picture remind you of your own childhood? Does it awaken longings to be there? Or does the viewer think of his own children, of his own vacations? The viewer is drawn into the picture and feels the sea, wind and sand under his own feet.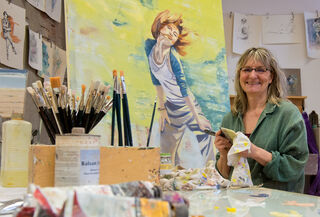 About Anja Struck
Born in 1961 in Hamburg, I studied free painting under Prof.
Harald Duwe at the Muthesius Academy of Fine Arts Kiel. This was followed by art education in Lüneburg and graphic and design in Hamburg. Later, a two-year study with Prof. Markus Lüpertz at the Art Academy Bad Reichenhall was added. In 2013 I received the cultural promotion award of the district of Lüneburg. My works can be seen at numerous exhibitions at home and abroad. Abroad: including America (New York, Miami,Pennsylvania), China (Beijing), Italy(Veneidig), Poland (Katowice), Östereich, Switzerland, Dänemerk Germany: Munich, Isny, Stuttgart, Bad Reichenhall, Berlin, Weilburg, Hilden, Dorsten, Detmold, Hanover, Stade, Hamburg, Lüneburg, Kiel, etc. I live and work in Lüneburg. My studio is in a former distillery, built in 1856. Man and landscape come together in my works to form an overall composition. The play of light and shadow creates liveliness. The dissolution of boundaries, the blurring of motifs and the emergence of blur gives the images something mysterious, it awakens memories and seduces the viewer to dream. This is further supported by a color choice of rather muted, soft colors. As a North German, I love the sea. In numerous works it finds itself thematically again. It creates images with great atmospheric density.