Anja Struck:
Picture "in soft sand" (2022)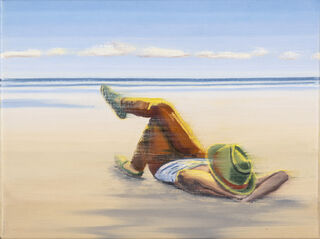 Anja Struck:
Picture "in soft sand" (2022)
Quick info
Oil | Canvas, stretched on stretcher frame | Format 30 x 40 cm (H/W) | picture hang up | signed certificate of authenticity
Detailed description
Picture "in soft sand" (2022)
A person is lying on the beach in the sand, legs crossed, hands clasped behind his head, looking at the sea in the distance. The viewer sees the depicted person from behind. The person is wearing a green hat, hair and face are therefore covered. The pants are depicted in a warm red-brown, the shirt is striped white-blue and the person wears green beach slippers. Due to yellow paint strokes on legs, hat and arms, the viewer has the feeling of a warm summer day, although the sun is not visible. The sky is blue, with small white clouds drifting through. The viewer is put in a beach and vacation mood, feels the sun on his skin, and while looking at it himself gets into a mood of relaxation and dreaming. The blurring of the color brings blurriness into the image and thus causes a mood that immediately captivates the viewer.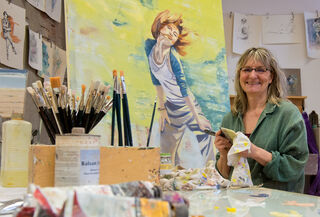 About Anja Struck
Born in 1961 in Hamburg, I studied free painting under Prof.
Harald Duwe at the Muthesius Academy of Fine Arts Kiel. This was followed by art education in Lüneburg and graphic and design in Hamburg. Later, a two-year study with Prof. Markus Lüpertz at the Art Academy Bad Reichenhall was added. In 2013 I received the cultural promotion award of the district of Lüneburg. My works can be seen at numerous exhibitions at home and abroad. Abroad: including America (New York, Miami,Pennsylvania), China (Beijing), Italy(Veneidig), Poland (Katowice), Östereich, Switzerland, Dänemerk Germany: Munich, Isny, Stuttgart, Bad Reichenhall, Berlin, Weilburg, Hilden, Dorsten, Detmold, Hanover, Stade, Hamburg, Lüneburg, Kiel, etc. I live and work in Lüneburg. My studio is in a former distillery, built in 1856. Man and landscape come together in my works to form an overall composition. The play of light and shadow creates liveliness. The dissolution of boundaries, the blurring of motifs and the emergence of blur gives the images something mysterious, it awakens memories and seduces the viewer to dream. This is further supported by a color choice of rather muted, soft colors. As a North German, I love the sea. In numerous works it finds itself thematically again. It creates images with great atmospheric density.