Anke Gruss:
Picture "Family trip to the sea" (2021)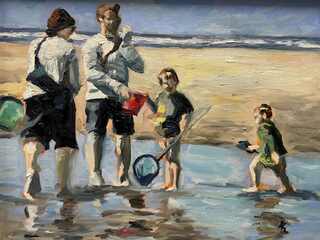 Anke Gruss:
Picture "Family trip to the sea" (2021)
Quick info
Oil | Wood | Format 24 x 30 cm (H/W) | signed certificate of authenticity
Detailed description
Picture "Family trip to the sea" (2021)
A family on the beach of St. Peter Ording. This picture was Pleinair, on site , sketched in oil paint and executed in more detail in the studio. The color was painted in rapid brushstrokes on the background. Through the rapid color setting, the scenery looks alive and fresh. A picture that awakens vacation memories.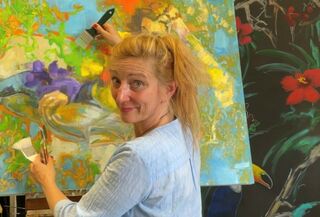 About Anke Gruss
I have always been fascinated by how light and shadow can change an entire scene or the most mundane things.
After graduating as an art therapist/educator in 1996, I first worked in animated film production, making characters for Sesame Street, among other things. In 2005 I left this field in search of new creative challenges. Especially on my travels and stays on the Lofoten Islands in Northern Norway and Iceland I found new inspirations. My painterly focus on "light and atmosphere" developed through the confrontation with the unique nature there and through encounters and conversations with people who lived there. Mainly I paint in oil or watercolor. The theme of "light and the atmosphere it creates in a picture" has expanded to the various genres of my paintings. So I paint maritime images and plumb here the light atmosphere through many color glazes. Another painterly focus is city scenes, where I am particularly concerned with the contrast of natural light and artificial light. I love to work out the harsh light/shadow contrasts that create a dramatic, almost cinematic atmosphere. In the cityscapes, there is also the depiction of movement and vibrancy in rapid strokes of color. In addition, I like to paint outside, plein air, painting directly on site. Here the paint is applied impasto, directly in thicker strokes and spots. These paintings carry immediacy and spontaneity, capturing the vibrancy of the moment. Direct and moving. My portraits in oil or watercolor form another series. In many layers I paint these portraits. Ornamental painting and writings form layers, which are again partially painted over. Here I want oppulence, light, color rush and joie de vivre radiate from my paintings. But also mystical and mysterious.