Anne Samson:
Picture "Summer day" (2023)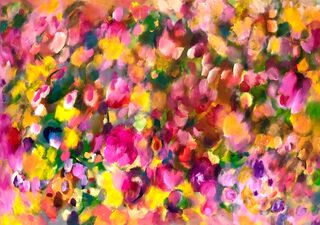 Anne Samson:
Picture "Summer day" (2023)
Quick info
Acrylic | Canvas, stretched on stretcher frame | Format 50 x 70 cm (H/W) | picture hang up | signed certificate of authenticity
Delivery time: approx. 2 weeks
Detailed description
Picture "Summer day" (2023)
Summer day. Summer meadow. Summer flowers. All this is implied in this actually abstract picture, because inevitably you think of beautiful flowers. Pink, red, pink and yellow dominate here and form beautiful contrasts. The colors are those of dandelions and cyclamen, for example. The composition is dense and it was worked in glazes. A wonderful painting! Calm and yet moved and full of joie de vivre.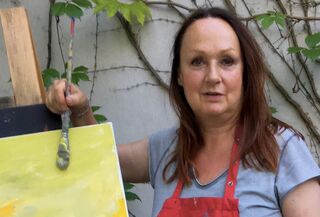 About Anne Samson
Painting is my passion and over the years has become my purpose in life.
My pictures are very different and I consciously do not commit myself to a particular style. This is because I am constantly realizing new ideas. So the work always remains exciting. My floral paintings are full of power and beauty. The colors must shine and radiate, that is very important to me, because the images should be beautiful and cheerful. But there are also quiet and restrained works in pastel tones. Very much I like to paint abstract, although I prefer larger formats. Here my inspiration is the painting process itself, from which in the course of (working) days the motif, the composition develops step by step.