Beate Blankenhorn:
Picture "Frida paints Frida" (2021)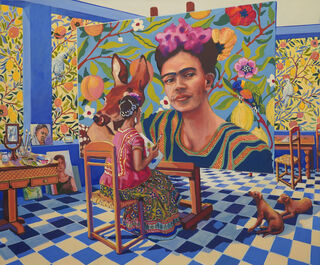 Beate Blankenhorn:
Picture "Frida paints Frida" (2021)
Quick info
Oil, Tempera | Canvas, stretched on stretcher frame | Format 110 x 120 cm (H/W) | picture hang up | signed certificate of authenticity
Delivery time: approx. 2 weeks
Detailed description
Picture "Frida paints Frida" (2021)
Frida Kahlo sits in her studio in Mexico and paints a larger-than-life self-portrait, observed by her two dogs. This is a purely fictional scene that is nowhere to be found like this, neither in photographs nor in literature. This painting testifies to the joy of life, the devotion and the desire for colors and ornamentation.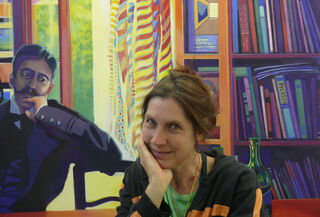 About Beate Blankenhorn
For over 30 years I have been an artist with body and soul.
I studied painting at the Stuttgart Art Academy and philosophy and literature at the University of Stuttgart. In addition, I gained a lot of experience through my teaching activities at art schools, youth art schools and a private academy for art and design. Meanwhile, my life is divided into the passion for painting on the one hand and the passion for yoga and meditation on the other. Or better I should say, these passions unite to a whole, which carries me full-time and inspires each other. To my paintings I demand profundity, professional image design and technical skill, which are transformed into lightness through the playful use of ornamentation and color.