Beate Blankenhorn:
Picture "Full moon ceremony in temple" (2020)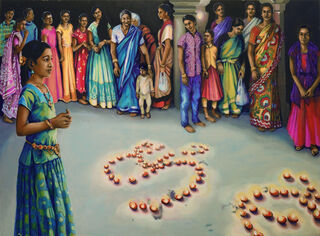 Beate Blankenhorn:
Picture "Full moon ceremony in temple" (2020)
Quick info
Oil, Tempera | Canvas, stretched on stretcher frame | Format 110 x 150 cm (H/W) | picture hang up | signed certificate of authenticity
Delivery time: approx. 2 weeks
Detailed description
Picture "Full moon ceremony in temple" (2020)
During my India trip, I was allowed to participate in a nightly full moon ceremony in the small temple of the neighboring village. The villagers were beautiful to look at in their festive colorful clothes, dressed up for this special festival. The temple was lit by hundreds of small candles and the whole atmosphere was magical.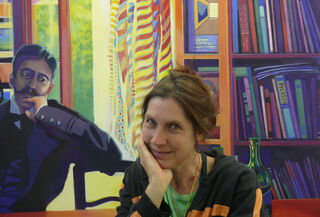 About Beate Blankenhorn
For over 30 years I have been an artist with body and soul.
I studied painting at the Stuttgart Art Academy and philosophy and literature at the University of Stuttgart. In addition, I gained a lot of experience through my teaching activities at art schools, youth art schools and a private academy for art and design. Meanwhile, my life is divided into the passion for painting on the one hand and the passion for yoga and meditation on the other. Or better I should say, these passions unite to a whole, which carries me full-time and inspires each other. To my paintings I demand profundity, professional image design and technical skill, which are transformed into lightness through the playful use of ornamentation and color.