Carmen Lütkehaus:
Picture "Rose Landscape" (2022)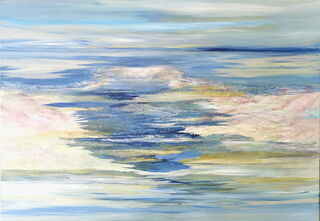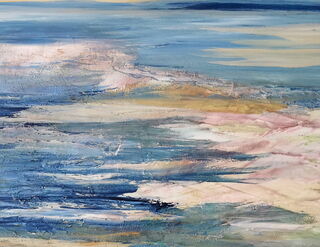 Carmen Lütkehaus:
Picture "Rose Landscape" (2022)
Quick info
Acrylic | Canvas, stretched on stretcher frame | Format 70 x 100 cm (H/W) | picture hang up | signed certificate of authenticity
Delivery time: approx. 2 weeks
Detailed description
Picture "Rose Landscape" (2022)
The image transports a warm and mystical mood and fits beautifully into a modern interior.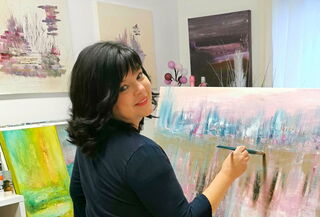 About Carmen Lütkehaus
"I love the art, with all your corners and edges. In 2020, it has arisen through Corona, in my passion of painting, to fully emerge.
Everything became calmer, even in my professional life, I had time to find myself and ultimately to my art. Even as a child I was said to have a lot of imagination, in painting I could and can express this. I like to work with acrylic, paint on canvas, stretched on wooden stretcher. I am happiest in my small studio, busy with the one thing that means a lot to me: to create a white canvas with life. I never know in advance what will become of it. I may have colors in my head, mix them and only with the third or fourth brush stroke I get an idea where my imagination will take me. Each time I am surprised myself by the result. I do not like to be guided in one direction. Everything comes as it should. That's why my paintings are sometimes abstract, sometimes figurative, sometimes landscape. With structure, without structure. Sometimes colorful, sometimes dark, depending on the mood." Carmen Lütkehaus was born in Beckum in 1968. The Westphalian is considered by art connoisseurs as an esteemed, up-and-coming artist. Above all, it is the imagination of which she is inspired - Her imagination, which was said to her at a young age, she can live out and express in painting. Lütkehaus does not follow a strategic approach to painting, but allows herself to be guided entirely by her feelings and is surprised herself every time anew by the result. Her paintings are therefore sometimes abstract, sometimes figurative or sometimes landscape.