Gerd Bannuscher:
Picture "Goldensee" (2022)


Gerd Bannuscher:
Picture "Goldensee" (2022)
Quick info
Acrylic | Canvas, stretched on stretcher frame | Format 40 x 120 cm (H/W) | picture hang up | signed certificate of authenticity
Delivery time: approx. 2 weeks
Detailed description
Picture "Goldensee" (2022)
Acrylic on canvas, 2022, 40 x 120cm, landscape, with suspension.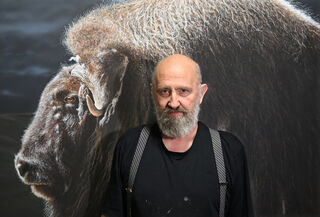 About Gerd Bannuscher
Gerd Bannuscher and the world-famous British behavioral scientist Jane Goodall are connected by numerous joint projects and cooperations.
In addition to portraits of Jane Goodall herself, a large part of his impressive works dealing with the subject of evolution were created in this context. Works by the artist adorn the walls of the palaces of the Sultan of Oman worldwide, as well as publicly accessible places in the country, such as the Royal Opera House Muscat. Exhibitions in Italy (Venice, citadel "Du Fantastique Au Visionnaire" 1994), the United Arab Emirates (Cultural Center Abu Dhabi 1998), Holland, Switzerland, Belgium, Denmark, Austria and Germany showed his paintings. Through the photorealistic technique of his paintings, which sometimes combines with the surreal, the artist gives his thoughts and beliefs a face that touches the viewer on an emotional and subconscious level. Awarded Gerd Bannuscher in the past, for example, with the Audience Award 100 Years Worpswede (1989), with the Audience Award 100 Years Paula Modersohn- Becker (2009) and with the Audience Award of the art fair Mainart (2017). 2022 1 Laureate of the Guericke Unicorn "Art and Diversity" In the Natural History Museum Magdeburg. Gerd Bannuscher was born on July 22, 1957 in Königsacker, North Frisia. He has worked since 1987 as a freelance artist and now lives in Eichede, Schleswig Holstein.