Hinrich JW Schüler:
Picture "Abstract landscape 31-2009" (2019)

Hinrich JW Schüler:
Picture "Abstract landscape 31-2009" (2019)
Quick info
Acrylic | Other carrier material | Format 100 x 160 cm (H/W) | picture hang up | signed certificate of authenticity
Delivery time: approx. 2 weeks
Detailed description
Picture "Abstract landscape 31-2009" (2019)
The painting Hinrich JW Schüler is inspired by the light and the vastness of northern German, American and Australian coastal and desert landscapes. Light, color and space are defining elements: "Deserts, coastal landscapes, endless expanses and barren places have always interested me. In the studio, a reduction to the essential takes place in artistic creation. The works created in this way explore connections and transitions between a real view of nature and abstraction, move in this exciting border area and draw their energy from it. The paintings do not show a (photo-) realistic "what-I-have-seen", but reflect atmospheric experiences. Personal experiences become the occasion for painting, not the intention of an exact depiction of what is found" (Hinrich Schüler).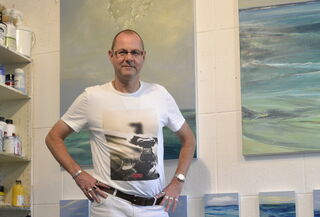 About Hinrich JW Schüler
Hinrich JW Schüler (*1964 Wittmund/Nordsee) was active as a freelance visual artist in Hamburg and Schwäbisch Gmünd after studying Fine Arts/Visual Communication at the University of Oldenburg, since 2005 he lives and works in Düsseldorf.
The artist received several scholarships in Germany and abroad and showed his works in numerous galleries and art associations in Germany, Europe and USA. Works of Schüler are in public and private collections.