Ilona Schmidt:
Sculpture "In dialogue" (2023)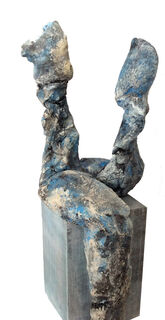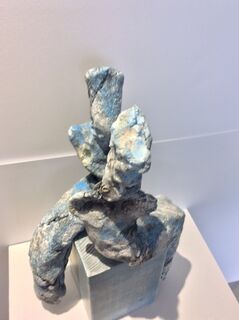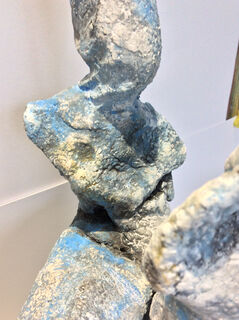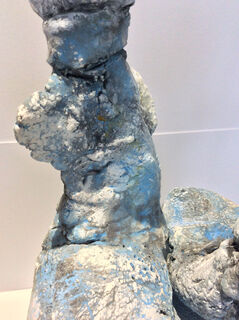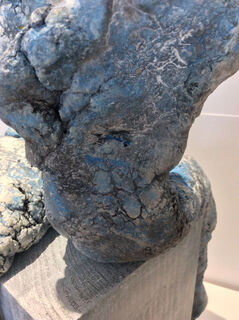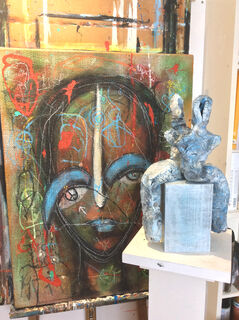 Ilona Schmidt:
Sculpture "In dialogue" (2023)
Quick info
Clay/Loam | More refinement | Format 34 x 21 x 15 cm (H/W/D) | Weight 2.9 kg | signed certificate of authenticity
Detailed description
Sculpture "In dialogue" (2023)
In dialogue is a highly abstracted pair of sculptures made of stoneware mass, sitting on a pedestal and giving the impression of being in conversation with each other. The two figures radiate a certain liveliness and seem to have a deep connection to each other. The figures were finished with cold patina after firing. The base is wood and the color scheme is a blue-gray. For better size comparison, the couple is sitting in a photo in front of a picture, which is not part of the offer, the dimensions of the picture are 60 x 80 cm. The figures are not firmly attached to the base.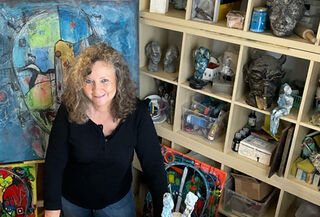 About Ilona Schmidt
I live and work in Hamburg. Since 2007 free artistic studies in painting and sculpture.
Since 2011 numerous exhibitions at home and abroad Since 2013 member of the Bundesverband bildender Künstler/ Landesverband Schleswig Holstein. Works in private collections in Argentina, Canada, Europe and United States. Represented in the art collection Tempowerk Hamburg My constant interest in the different individual human characteristics and peculiarities and my enthusiasm for art, led to the decision to begin an independent study and follow a path of continuous self-optimization and refinement of their own techniques. Thus, my development can be described as a kind of journey through the world of art, during which I am constantly getting to know new people, techniques, places and impressions. Life itself, the fascination that lies in the detail of social interaction, leave a deep emotional imprint on me, which I translate in my artwork. My goal is to express my thoughts and ideas on various topics such as the environment, fragility or questions of belonging, through the use of different methods to give the viewer of my art a different understanding. Through the unconventionality of the works and the unadulterated reproduction of my thoughts, I try to bring even problematic issues, such as questions of social injustice, the transience of existence, but also strong emotions such as anger and grief to a more direct, emotional level. In doing so, I engage in a form of self-study in which I grapple with current issues and ideas and use the emotions released in the process to give the issues more personal meaning and new relevance. The entire process of creating one of my works is as diverse as my works themselves. This is because I give equal space to every impression or emotion. This also means that each inspiration requires a different approach. In my work, I am largely guided by my intuition and do without classical methods such as scripts or sketches. My creative process is thus the fusion of the manifestation of what I have experienced in my thoughts and my own intuition.