Jörg Herz:
Sculpture "Act I in mirror" (2022)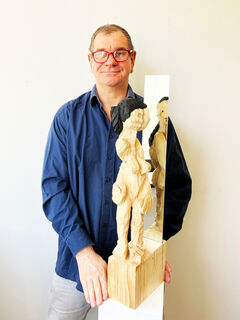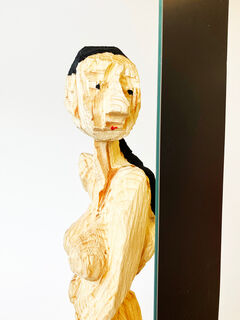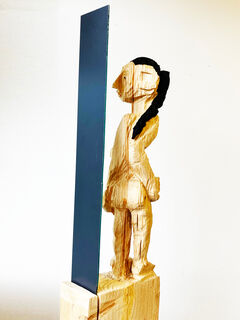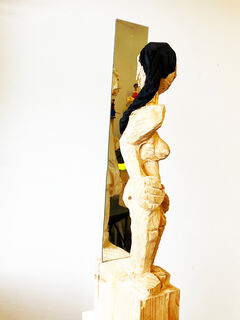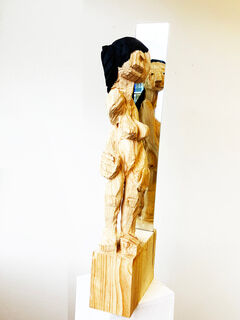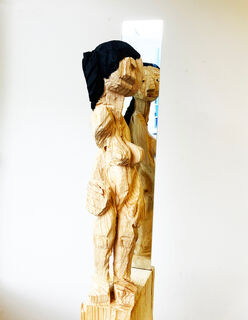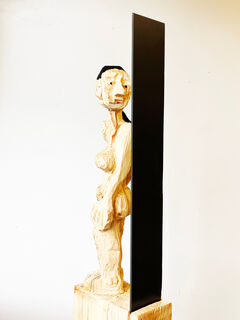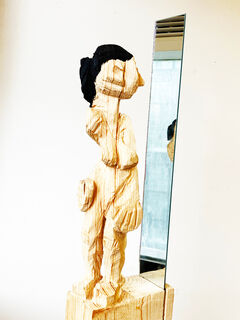 Jörg Herz:
Sculpture "Act I in mirror" (2022)
Quick info
Wood | More refinement | Format 68 x 10 x 20 cm (H/W/D) | Weight 3 kg | signed certificate of authenticity
Delivery time: approx. 2 weeks
Detailed description
Sculpture "Act I in mirror" (2022)
The figure of a naked woman conveys the feeling of self-confidence and self-knowledge . The act of looking at herself in the mirror can be seen as a symbol of introspection and self-examination, suggesting that the woman in the sculpture is satisfied with her body and identity. Ultimately, the sculpture shows that nudity can be a symbol of strength and empowerment rather than vulnerability or objectification. The confident posture of the woman in the sculpture, combined with her ability to view herself from behind, suggests a level of self-awareness and acceptance that transcends traditional notions of beauty and sexuality. The sculpture can be seen as a celebration of the human body and the power of self-reflection. Unique / figure about 55 cm high / with base 68 cm high / spruce and acrylic paint / wood sculpture work with the chainsaw.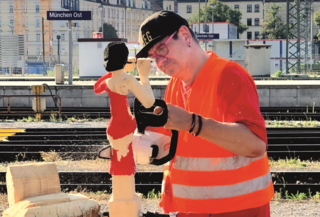 About Jörg Herz
In the sculptures of Jörg Herz, man in all his facets is the focus, he sees in gestures and posture the small, spontaneous, random, and he captures that, sometimes whimsical, sometimes idiosyncratic, but always of disarming honesty.
"The saw does not forgive mistakes. It is fast, loud and brutal, says Herz. And just as life sometimes plays fast, loud and brutal with us, Herz's characters gain their very own identity through this rough crafting." Süddeutsche Zeitung, November 23, 2018 Herz works outdoors year-round, right next to the railroad tracks. The archaic nature of the material, working in the fresh air - this is how he experiences the creative process as an expression of radical acceptance. "It's only through the courage to make mistakes that something new emerges," he says. "Sculptures with their very own aesthetic and authentic signature." One is allowed to feel the emergence of the work. Details are secondary. For Herz's human sculptures are sensual and direct. The wood grain and the rough traces of work remain visible. The characterful wood of the spruce reinforces the expressiveness. Annual rings, knots, unevenness - nothing is hidden, the immediate is important. Show what is. In the contrast of the wood with individual color areas, the sculptures get tension. Despite their modest dimensions, they emerge with a strong character. A dialogue between work and viewer arises, resounding in edges and colors. EXHIBITIONS 2019 permanent installation of a life-size high diver at a height of 10 m, on top of an office building at Munich's Ostbahnhof. Solo and group exhibitions and public art in Germany, England, Holland, Italy, Japan, Switzerland, and USA: Aachen, Augsburg, Basel, Bad Dürkheim, Bad Homburg, Berlin, Braunschweig, Biberach, Den Haag, Erlangen, Freiburg, Hamburg, Hanover, Landshut, Lahr, Leeds, Los Angeles, Leonberg, Munich, Osnabrück, Okinawa, Raleigh / North Carolina , Santa Monica, Titisee-Neustadt, Wiesbaden. LIFE Jörg Herz studied Visual Communication and Art at the School of Applied Sciences Pforzheim from 1992 to 1996, among others with Prof. Detlef Birkfeld and Prof. Manfred Schmalriede. Semester abroad at Leeds Metropolitan University (United Kingdom). He is a scholarship holder of the Friedrich-Ebert-Stiftung Bonn. He lives and works in Munich. Herz has worked as a creative director in advertising agencies, for clients such as BMW, Beck's, Siemens, Tempo, Mon Cheri, UBS and funny frisch. His graphic work has received numerous national and international awards: Type Directors Club New York, 100 Best Posters, Berlin Type in Gold, IF Award. In 2016 - after 20 successful years in the advertising world - he was looking for the more. In the process, Herz found his way back to his original passion, sculpting. He discovered the chainsaw as his tool, spruce wood as his medium.