Kat Rücker-Weininger:
Picture "Spring" (2020)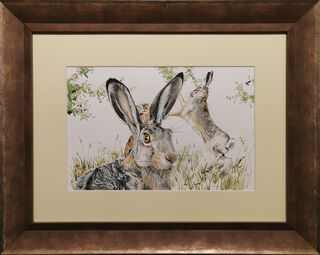 Kat Rücker-Weininger:
Picture "Spring" (2020)
Quick info
India Ink | Handmade paper | framed | Format 28 x 40 cm (H/W) | picture hang up | signed certificate of authenticity
Delivery time: approx. 2 weeks
Detailed description
Picture "Spring" (2020)
Field hares in the spring. In the foreground a mildly unnerved female hare looks at the viewer, while in the background two males fight for her favor. Acrylic ink on laid paper.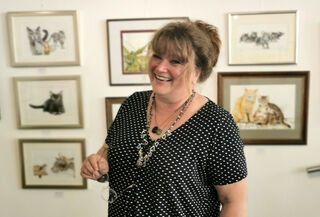 About Kat Rücker-Weininger
Born in Frankfurt am Main, she grew up in Bavaria and the Canary Islands.
Following an apprenticeship as a handbook binder and a formative year of travel with a designer bookbinder in London, Kat Rücker-Weininger studied graphic design in Munich. Parallel to her work as an illustrator for advertising agencies and publishing houses, she writes stories and children's books and works as an artist and book restorer. Her paintings have been exhibited in galleries, museums, and other venues throughout Europe, including the Haus der Kunst and the German Hunting and Fishing Museum in Munich, the Marbach Horse Museum, the Musée Suisse du Cheval in La Sarraz, the IO/Childrens Bookfair booth in Bologna, and the Glaspalast (formerly the Staatsgalerie für Moderne Kunst) in Augsburg.