Kathrin May:
Picture "Hold your breath" (2022)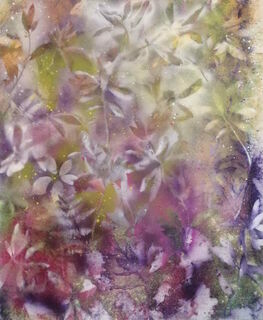 Kathrin May:
Picture "Hold your breath" (2022)
Quick info
Acrylic, Colour Spray, Other materials | Canvas, stretched on stretcher frame | Format 120 x 100 cm (H/W) | picture hang up | signed certificate of authenticity
Delivery time: approx. 2 weeks
Detailed description
Picture "Hold your breath" (2022)
This artwork was created in a multi-layered application of paint, in a mix of loose pigments and sprayed acrylic paint.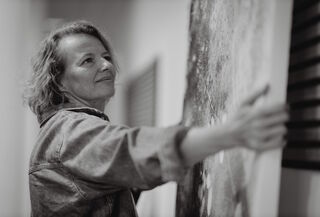 About Kathrin May
Kathrin May's works address man's deep connection to nature.
In search of an expression as unadulterated as possible, she has found a distinctive language that connects the phenomena of nature with her emotional world. The artist collects in the surrounding nature, what the season just holds ready, which can be branches, leaves, wild herbs, flowers and roots. She puts these together on her canvas to create completely new visual compositions. In the play with color, light-filled plant shadow cracks develop, embedded in the contrast of multi-layered color gradients in the background. Here light meets darkness, tranquility meets motion, and a crystalline dynamic spatiality emerges that repeatedly condenses and dissolves. Kathrin May's works address the sensual perception, the deep feeling and tell of the happiness of being in nature, of lightness and joie de vivre and the beauty of the moment. Kathrin May is a freelance artist who lives and works in Hameln. She studied at the Kunsthochschule Berlin-Weißensee and at the École Nationale Supérieure des Arts Décoratifs in Paris, graduating as a master student. Her works are shown in national and international galleries and art institutions, in addition to exhibitions in Bonn, Düsseldorf and Madrid, she is now showing her works for the first time in her home town of Hameln.