Kerstin Forster:
Picture "Diurnal 6 ( Daily prayer) - Pray for peace" (2023)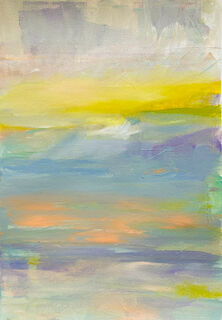 Kerstin Forster:
Picture "Diurnal 6 ( Daily prayer) - Pray for peace" (2023)
Quick info
Acrylic, Tempera | Cardboard | Format 29.70 x 21 cm (H/W) | signed certificate of authenticity
Detailed description
Picture "Diurnal 6 ( Daily prayer) - Pray for peace" (2023)
This motif shows a cheerful landscape in purple-gray-yellow tones. My series Diurnals/ Taggebete is painting on acid-free 300g Hahnemühle watercolor board, which was created on a daily basis for over 100 days. In the daily ritual, like a prayer, I tried to extract the moods surrounding me, their essence and condense them into a mood painting. They are perhaps to be considered equivalent to the poetic form of Japanese haikus, which also mostly have contemplations of nature as their subject. The decisive factor for me was that I wanted to convey a positive mood despite all the negative, sometimes disturbing news that reaches us every day. That is why my works in this series also bear the subtitle "Pray for peace". Technically, they are painted acrylic and tempera, sometimes combined with oil paints. All works are signed on the back with date and signature.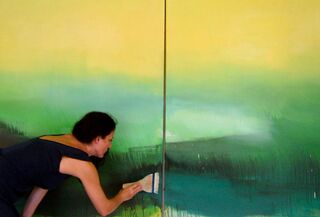 About Kerstin Forster
From 1986 I studied graphics and painting at the Academy of Fine Arts Munich with Prof.
Gerhard Berger and Prof. Daniel Spoerri. Before that I completed an internship for icon painting with multiple Venice Art Biennale participant Rene Chacon. I finished my art studies in 1993 with a diploma and the distinction "Meisterschülerin". Since I am also interested in the development of the human being, I began in 1995 the postgraduate studies "Visual Design and Therapy" of the AdBK Munich, which I did not finish in favor of my free painting. As a freelance artist, I exhibit in group and solo exhibitions since 1988 at home and abroad, for example, 2019 "River and Memory" at Palmer Galerienhaus 3.0 in Stuttgart, 2017 "Landscapes and other escapes" at Plattform 15 in Munich, Kunstverein Aichach, Kunstverein Brühl, Stadt. Galerie am Graben Augsburg, Bayr. Staatsministerium für Arbeit & Familie, Munich, Gallery Twerenbold Lucerne and Gallery P3 Tokyo. I also received several scholarships such as a studio scholarship from the Gisela-und-Erwin-von-Steiner-Foundation from 2006 to 2009, a residency scholarship at the Kunstsommer Irsee in the class of Karin Kneffel, 1995 and at the Collezione Peggy Guggenheim in Venice, 1990. For "Kinder treffen Künstler e.V." I am engaged in the artistic-aesthetic education of disadvantaged children. In my painterly work I am between dawn and dusk constantly in search of the light and beauty in the hidden.