Mark Hellbusch:
Picture "Pictures of a journey - abstract painting on the paint box" (2023)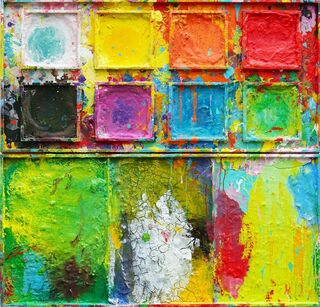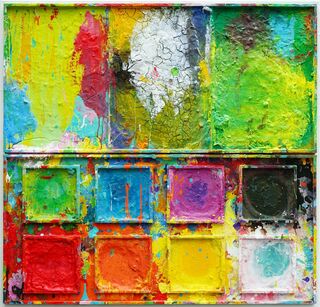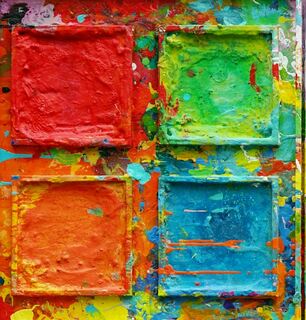 Mark Hellbusch:
Picture "Pictures of a journey - abstract painting on the paint box" (2023)
Quick info
Acrylic, Lacquer, Oil | Wood | Format 120 x 125 cm (H/W) | picture hang up | signed certificate of authenticity
Delivery time: approx. 2 weeks
Detailed description
Picture "Pictures of a journey - abstract painting on the paint box" (2023)
By using modern and experimental painting techniques on this oversized color box, an abstract work of art is created in the form of a painted wall sculpture. Fascinating fields of tension arise in terms of both form and color. On one side are the primary colors yellow, orange, red, green, blue, violet, brown as well as white and black. On the other side are the "used" color box plates, the colorful spaces in between and the colored border area. The result of the artistic process, the symbolic power of the color box and the title "Pictures of a Journey" encourage the viewer to develop associations. Once the imagination is stimulated, an open and personal process of abstraction can emerge that appeals to the viewer in a variety of ways.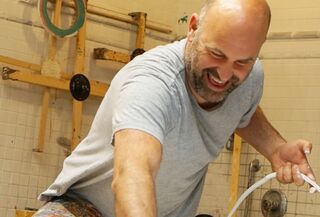 About Mark Hellbusch
Mark Hellbusch has been a freelance artist since 1998.
After numerous stations - for example in Germany, Spain, the USA, England and Brazil - he has been living with his family in Wiesbaden since 2009. He attaches great importance to direct contact with people interested in art. First he had his "Atelier Hellbusch" in Berlin, then the "Galerie Hellbusch" in Mainz and finally the "ARTLET | Atelier Hellbusch" in Wiesbaden. Mark Hellbusch is a contemporary artist who loves both expressive painting and experimental art. His paintings are usually abstract and radiate immense power and energy. Both in art and in business, the artist has undergone an extraordinary development. Particularly well known are his color boxes, large-scale painted wall objects, which he also exhibits in his own outlet in Wiesbaden. With his direct sales, he has already been able to inspire many customers at home and abroad. In addition to the theme of "The paint box" Mark Hellbusch experimentally deals with the throwing of paint, with paint residues (landscape paintings) and also with expressive portrait painting. Here are some series of the artist Mark Hellbusch: "Redwind" "Fossil Landscapes" "The Palette" "The Paint Box" "HomoGen" "Hunters" "Field of Mars" "Out of the Light" "At the End Green" "Organic Grounds" "World People" He regularly shares his diverse painting skills in art classes and workshops.