Michael Rofka:
Sculpture "Broken time" (2022)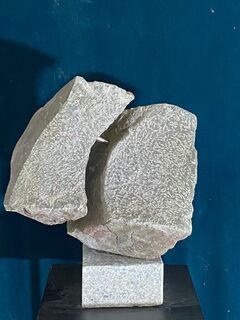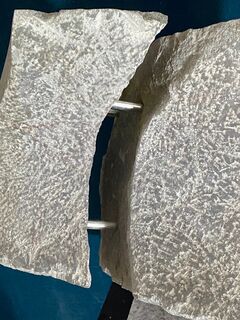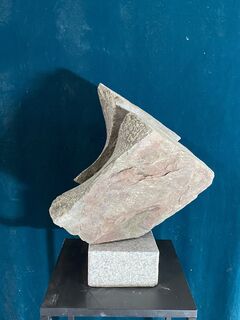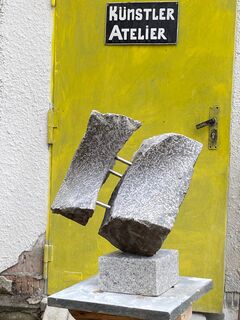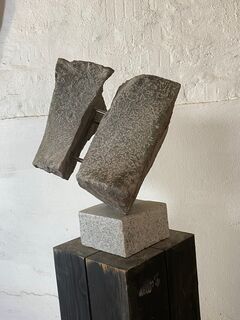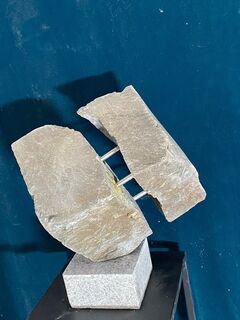 Michael Rofka:
Sculpture "Broken time" (2022)
Quick info
Stone | More refinement | suitable for indoor and outdoor use | Format 44 x 37 x 34 cm (H/W/D) | Weight 25 kg | signed certificate of authenticity
Delivery time: approx. 2 weeks
Detailed description
Sculpture "Broken time" (2022)
Basalt is a volcanic hard rock. It was often used for road construction. For the sculptor, it presents a challenge with its hardness. Basalt does not actually occur in the sculptor's area. He found the almost cubic piece in a nearby forest, where it was probably once part of a road stabilization. It was transported by bicycle that reached its load limits. The idea was to combine the cubic shape with an organically stretched saddle surface that would receive strong impact with original fractures of the stone. However, the stone broke while being worked on. Instead of abandoning the project, the sculptor joined the two broken pieces together with such a way that a gap remains open. Stainless steel pieces serve as spacers. It was probably only through this process that the stone sculpture took on its own unique expression. The new sculpture was then mounted on a granite block. The height specification is together with this block.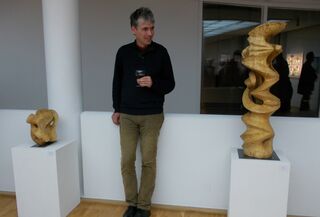 About Michael Rofka
Basically, I work in various media, with sculpture or sculpture takes a central role.
Increasingly important, however, are also land art projects on an international level. But I also paint and am musically active. Interdisciplinarity is important to me. Figurative elements are found only exceptionally and if these are rather plant forms. I have always been interested in natural science and nature forms a thematic center. For my sculptures I like to look for stones and wood in nature. However, I use steel or copper and also like to combine materials. The shaping of the sculptures follows on the one hand formal, geometric considerations, on the other hand it is found in a creative artistic work process. I am particularly interested in flow forms.