Michael Rofka:
Sculpture "Melancholia" (2020)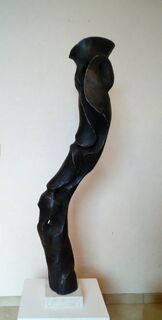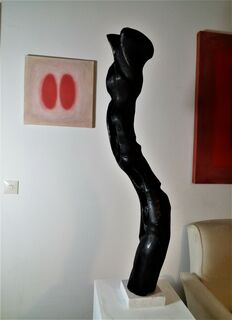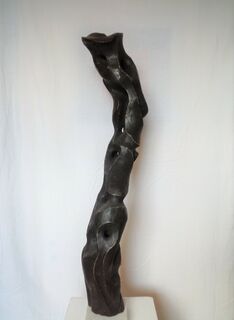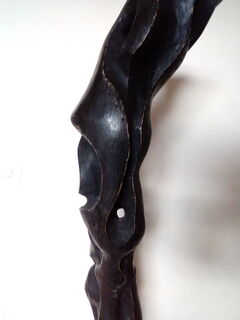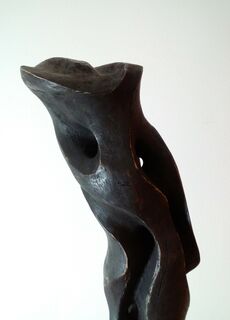 Michael Rofka:
Sculpture "Melancholia" (2020)
Quick info
Wood | More refinement | suitable for indoor and outdoor use | Format 105 x 28 x 32 cm (H/W/D) | Weight 10 kg | signed certificate of authenticity
Delivery time: approx. 2 weeks
Detailed description
Sculpture "Melancholia" (2020)
Most of the sculptures of the artist have an expression of lightness and mobility and are rather bright. Here now a dark work has been created. It was a broken down strong oak branch, which the artist brought to his studio to work on. The wood was already dry and solid. There were traces of rot only just below the bark and oak wood is known for its durability. Using the curved natural shape and structure for a sculpture was both a challenge and a stimulus. In a long working process, another dynamic wooden sculpture was created, which with its openings and overall shape is an exciting spatial body. The wood was first stained with an almost black iron oxide pigment, sanded again and finally finished with a wax. The sculpture is mounted on a small white marble block. It is a light, dance-like melancholy that combines lightness and thoughtful depth.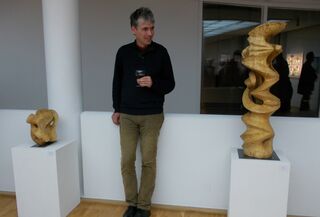 About Michael Rofka
Basically, I work in various media, with sculpture or sculpture takes a central role.
Increasingly important, however, are also land art projects on an international level. But I also paint and am musically active. Interdisciplinarity is important to me. Figurative elements are found only exceptionally and if these are rather plant forms. I have always been interested in natural science and nature forms a thematic center. For my sculptures I like to look for stones and wood in nature. However, I use steel or copper and also like to combine materials. The shaping of the sculptures follows on the one hand formal, geometric considerations, on the other hand it is found in a creative artistic work process. I am particularly interested in flow forms.