Michael Rofka:
Sculpture "Triad" (1997)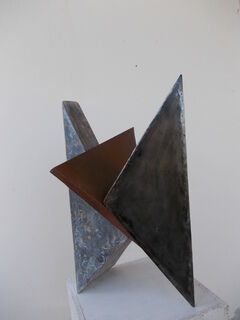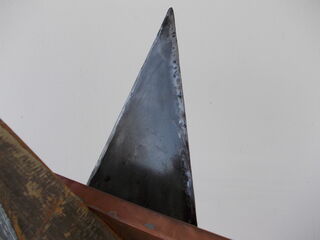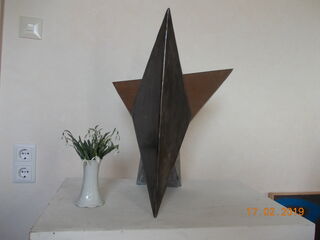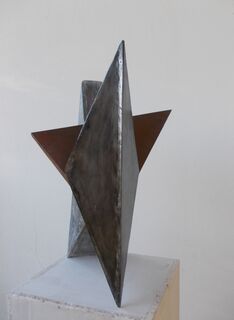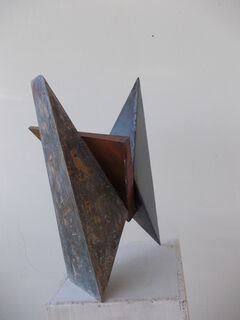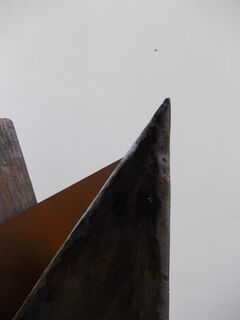 Michael Rofka:
Sculpture "Triad" (1997)
Quick info
Metal, Steel, Wood | More refinement | Format 44 x 39 x 31 cm (H/W/D) | Weight 5 kg | signed certificate of authenticity
Delivery time: approx. 2 weeks
Detailed description
Sculpture "Triad" (1997)
The triad is composed of three elements made of three different materials. There is a black steel body, a symmetrical but irregular tetrahedron that stands on a point. A gray-stained wooden body that seems to support the sculpture from behind and an element made of copper sheet that breaks the symmetry of the sculpture between these parts. This combines constructive elements with poetry and sensuality of the different materials. Associations may suggest themselves, but they are entirely up to a viewer. It is a powerful sculpture with its own unique expression.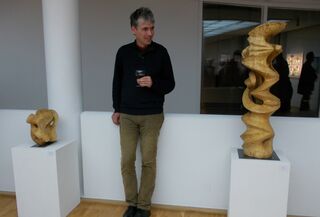 About Michael Rofka
Basically, I work in various media, with sculpture or sculpture takes a central role.
Increasingly important, however, are also land art projects on an international level. But I also paint and am musically active. Interdisciplinarity is important to me. Figurative elements are found only exceptionally and if these are rather plant forms. I have always been interested in natural science and nature forms a thematic center. For my sculptures I like to look for stones and wood in nature. However, I use steel or copper and also like to combine materials. The shaping of the sculptures follows on the one hand formal, geometric considerations, on the other hand it is found in a creative artistic work process. I am particularly interested in flow forms.