Mirek Kuzniar:
Picture "In love park" (2017)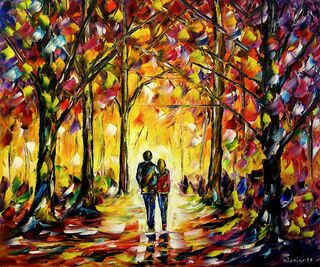 Mirek Kuzniar:
Picture "In love park" (2017)
Quick info
Oil | Canvas | Format 50 x 60 cm (H/W) | signed certificate of authenticity
Delivery time: approx. 2 weeks
Detailed description
Picture "In love park" (2017)
Colorful park landscape, in yellow, red and purple. Embraced, a couple in love walks through a romantic landscape. Around them all nature explodes. Love in the air. Oil painting on canvas in spatula technique.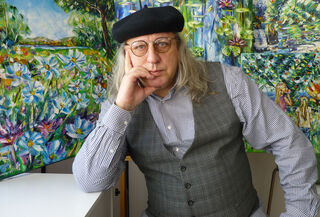 About Mirek Kuzniar
I was born on 12 August 1968 in Boleslav, Lower Silesia (Poland).
Since 1981 I live in Heilbronn, Federal Republic of Germany. I have neither studied art nor taken painting lessons. My grandfather was a painter, so I inherited painting from him. I had my first art exhibition at the age of 16. Mainly I paint with palette knife and oil paints. Certain motifs always return in my paintings. Colorful landscapes, cities and lovers walking hand in hand. Mothers with children and café scenes also accompany my canvas. In my art you can always see the beautiful life. Because of the bright colors, my works appear to be very colorful and lively, reflecting a splendid freshness of everyday life, attractive to all ages. I paint very quickly. Each painting is completed in one day for me. Unfortunately, today I hardly own any photographs of my old works. In the past, I never photographed my paintings. And so I can not trace how much I have already painted in my life. I have never married. I do not belong to any art association.