Mo Fontaine:
Picture "Frida with peacock feather on silver background" (2022)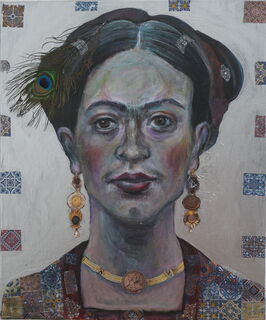 Mo Fontaine:
Picture "Frida with peacock feather on silver background" (2022)
Quick info
Acrylic | Canvas, stretched on stretcher frame | Format 60 x 50 cm (H/W) | signed certificate of authenticity
Delivery time: approx. 2 weeks
Detailed description
Picture "Frida with peacock feather on silver background" (2022)
Mixed media: acrylic paints, collaged elements on canvas, size 60 x 50 cm For decades, a great fascination has emanated from Frida Kahlo. The Mexican saw herself not only as a precious flower on the lapel of her husband Diego Rivera. In her semi-naïve art she staged herself again and again - as a sensual woman with a damaged body and as an exotic in the gesture of a 'Mexicanidad'. Her unsparing portraits oscillate between beauty, sensuality, ugliness and decrepitude. And one thing is indisputable: not only her pictures, but also her person enjoy cult status today. The artist has approached this icon artistically exclusively with the help of old photographs. Because Frida Kahlo's self-portraits are a taboo zone for Mo Fontaine - untouchable.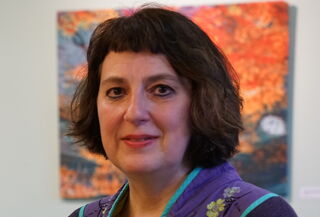 About Mo Fontaine
Strictly speaking, Mo Fontaine's work is all about color and its manifold expressions: from subtle to expressive.
In her still lifes, portraits and collages, she combines elements from different cultures and times, because she loves the art of the old masters just as much as she loves Japanese art of the 17th century. In this way, 'decelerated', magical-sensual images are created, which also transport the discredited concept of beauty. Seen in this light, some of the paintings seem to have 'fallen out of time' - not least because the paintings quite consciously refuse a fundamental category of the avant-gardes: the 'art of artlessness'. The aim is a timeless art that will perhaps still function in two or three hundred years. She completed her artistic training at the Folkwang-Hochschule in Essen.