Mo Fontaine:
Picture "Large koi on gold background" (2020)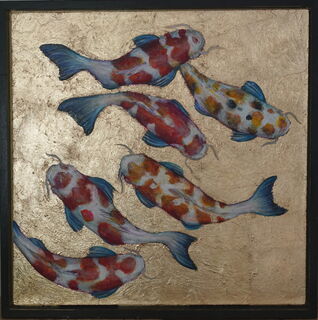 Mo Fontaine:
Picture "Large koi on gold background" (2020)
Quick info
Acrylic | Canvas, stretched on stretcher frame | Format 80 x 80 cm (H/W) | signed certificate of authenticity
Delivery time: approx. 2 weeks
Detailed description
Picture "Large koi on gold background" (2020)
As soon as these special carps leave their protected ponds and henceforth live in rivers and lakes, they lose their individual patterns and magnificent colors. In the 17th century, the artists of the Rinpa school traditionally applied their stylized motifs to gold or silver backgrounds, avoiding a vanishing point perspective. Among other things, the radiant gold also had the property of "illuminating" the traditionally light-poor Japanese interiors. By the way, one looks in vain for koi in Rinpa art: the beautiful carp were not bred in their present form until the 19th century. The background of this large-format painting from the series "Koimania" consists of struck gold (brass) on canvas. The pictured shadow gap picture frame is only a suggestion and is not included. The motif should be framed necessarily, because the artist always completes her motifs in the frame.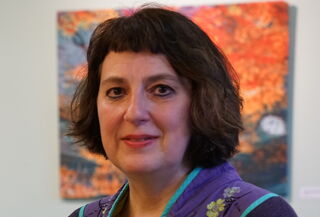 About Mo Fontaine
For the Folkwang graduate, everything revolves around color and its manifold modes of expression: from subtle to expressive.
In her still lifes, portraits and collages, there are occasional formal-aesthetic borrowings from the Old Masters, whom she greatly appreciates. In this way, 'decelerated', magical-sensual images emerge, which also transport the discredited concept of beauty. Seen in this light, some of the paintings seem to have 'fallen out of time' - not least because the paintings quite consciously refuse a fundamental category of the avant-gardes: the 'art of artlessness'. The aim is a timeless art that will perhaps still function in two or three hundred years.