Mo Fontaine:
Picture "Ochid in raku pot" (2010)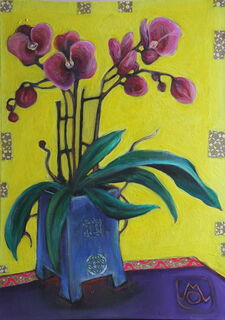 Mo Fontaine:
Picture "Ochid in raku pot" (2010)
Quick info
Acrylic, Other materials | Canvas, stretched on stretcher frame | Format 70 x 50 cm (H/W) | signed certificate of authenticity
Delivery time: approx. 2 weeks
Detailed description
Picture "Ochid in raku pot" (2010)
On the windowsill, the orchid is the undisputed queen. In terms of charisma, this exotic plant, which is a perching plant in tropical rainforests high up on mighty jungle trees, trumps all other houseplants. The production of raku vessels is closely associated with the Japanese tea ceremony. In our Western world, dominated by symmetry and perfection, objects created by raku firing seem to be something very special. The raku vessel gives the viewer the feeling of being able to look at and touch something imperfect and random. A great calm emanates from successful raku pieces. The 'calm' impression refers to its literal meaning: 'raku' means contentment, joy and pleasure. Japaneseizing stylistic devices, such as the emphasis on the surface, and pop colors help to prevent an overly pleasing and trivial pictorial solution.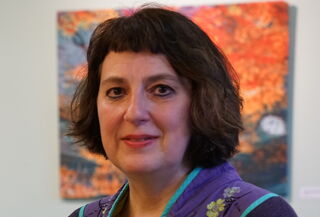 About Mo Fontaine
The Folkwang graduate is a representative of a New Classic Style.
For her, everything revolves around color and its manifold modes of expression: from subtle to expressive. In her still lifes, portraits and collages she combines elements from all worlds and times, because she loves the art of the old masters as much as the Japanese art of the 17th century. This is how 'decelerated', magical-sensual images are created, which also transport the discredited concept of beauty. Seen in this light, some of the paintings seem to have 'fallen out of time' - not least because the paintings quite consciously refuse a fundamental category of the avant-gardes: the 'art of artlessness'. The aim is a timeless art that will perhaps still function in two or three hundred years.