Mo Fontaine:
Picture "Old doll with lace dress" (2022)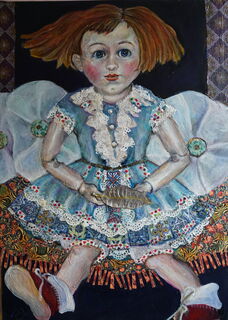 Mo Fontaine:
Picture "Old doll with lace dress" (2022)
Quick info
Acrylic, Collage | Canvas, stretched on stretcher frame | Format 70 x 50 cm (H/W) | signed certificate of authenticity
Delivery time: approx. 2 weeks
Detailed description
Picture "Old doll with lace dress" (2022)
This old doll is an astonishing hermaphrodite. Located somewhere between a human being and a thing, its physiognomy data rather resemble stereotypical image formulas. And yet this artifact seems to be animated in a magical way, for old dolls are also vanitas symbols and metaphors for transience. From their doll faces, an alien childhood looks over to us. These collectibles take us back to a distant time when the hermaphrodites were loved, admired and bullied - as little siblings or companions of our mothers and grandmothers. The collage's pictorial structure deliberately dispenses with a central perspective. Spatiality is created through overlapping.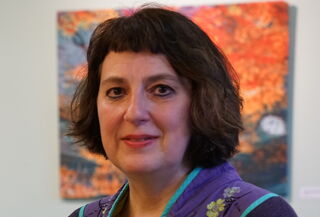 About Mo Fontaine
Strictly speaking, Mo Fontaine's work is all about color and its manifold expressions: from subtle to expressive.
In her still lifes, portraits and collages, she combines elements from different cultures and times, because she loves the art of the old masters just as much as she loves Japanese art of the 17th century. In this way, 'decelerated', magical-sensual images are created, which also transport the discredited concept of beauty. Seen in this light, some of the paintings seem to have 'fallen out of time' - not least because the paintings quite consciously refuse a fundamental category of the avant-gardes: the 'art of artlessness'. The aim is a timeless art that will perhaps still function in two or three hundred years. She completed her artistic training at the Folkwang-Hochschule in Essen.