Pierre-Paul Maillé:
Sculpture "Möbius Loop" (2022)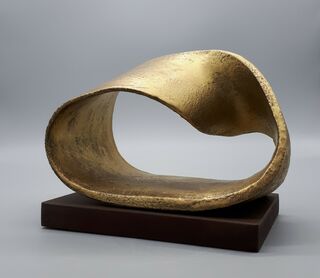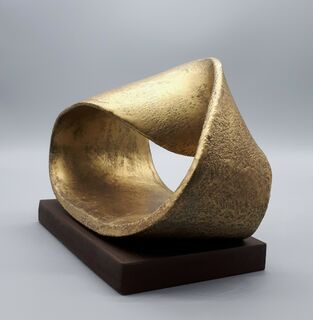 Pierre-Paul Maillé:
Sculpture "Möbius Loop" (2022)
Quick info
Ceramics | More refinement | Format 11 x 17 x 9.50 cm (H/W/D) | Weight 0.8 kg | signed certificate of authenticity
Delivery time: approx. 2 weeks
Detailed description
Sculpture "Möbius Loop" (2022)
Abstract sculpture made of ceramic with gold patina and wooden base.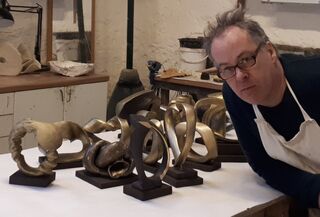 About Pierre-Paul Maillé
"Je me souviens" - I remember - is the motto of Québec, the francophone province in eastern Canada where I was born.
It is a reminder of how important one's roots, one's history are and that we Québécois have preserved our language and culture on the North American continent for centuries. Since 1988, Germany has been my home and part of my history: I lived through the Wall and the depressing experience of driving through East Germany to get to Berlin. And I witnessed the fall of the Wall; the euphoria and the sense of new beginnings. I am one of the artists of the "East Side Gallery": the title of my wall painting is "Je me souviens", to remember that this wall and the destructive power of walls must never be forgotten. Germany is now part of my identity and my art: I live in Berlin and in a village in Brandenburg, where in an old barn I create sculptures as well as large-format paintings, among other things. Especially for artsolitaire I have created abstract sculptures in ceramic. In addition, I open you a window into my past and offer under the motto "Je me souviens" a selection of my colorful paintings that are part of my history. I invite you to discover my art!