Richard Senoner:
Sculpture "Beauté" (2020)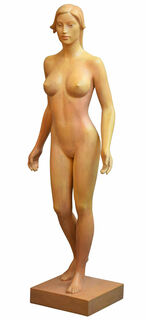 Richard Senoner:
Sculpture "Beauté" (2020)
Quick info
Wood | More refinement | Format 65 x 25 x 17 cm (H/W/D) | Weight 1.8 kg | signed certificate of authenticity
Delivery time: approx. 2 weeks
Detailed description
Sculpture "Beauté" (2020)
Sculpture carved from limewood and painted with acrylic paint. Signed. Size 65 x 25 x 17 cm (h/w/d). Weight 1.8 kg.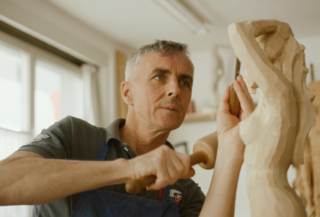 About Richard Senoner
In the years of training and in the first period as an independent sculptor, I devoted myself almost exclusively to sacred art - which has a three-century-old tradition in my homeland.
It was mainly crucifixes that I carved thanks to many commissions. So the study of anatomy was a very important part of my education, but also my great passion. For more than fifteen years I have been intensively engaged in the female nude. Thus, a great many female nudes have been created during these years. In addition to many small sculptures, I have also repeatedly carved life-size female nudes. 1967 born in Bolzano and grew up in Ortisei in Val Gardena, South Tyrol 1981 - 1985 Vocational school for sculpture in Ortisei and simultaneous apprenticeship with my father Peppi Senoner 1989 master craftsman diploma since 1990 freelance sculptor 2006 - 2015 member of the artist association UNIKA from Val Gardena