Ro:
Sculpture "The dog" (2022)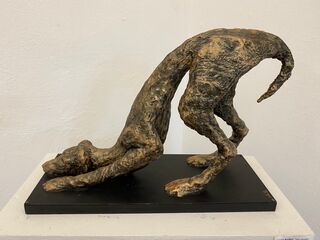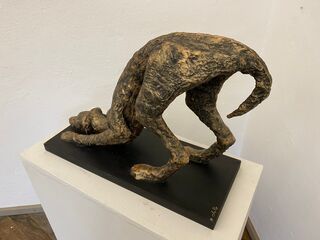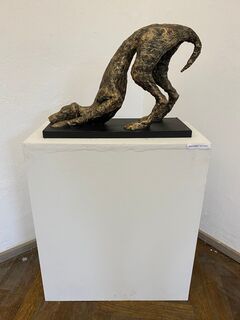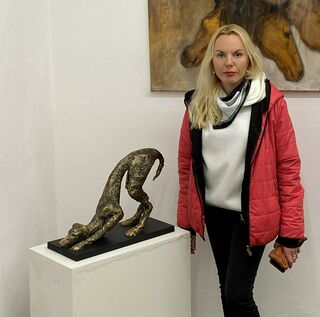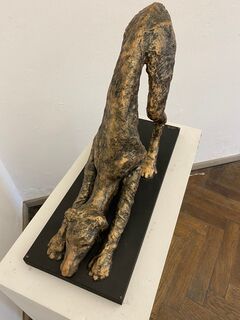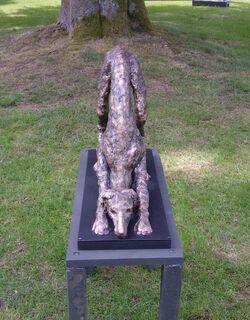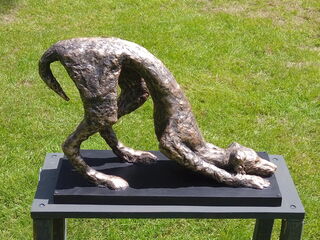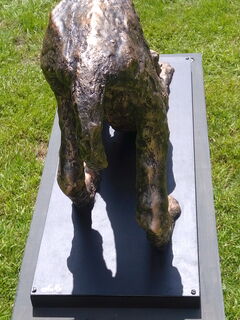 Ro:
Sculpture "The dog" (2022)
Quick info
Metal, Other materials, Wood | Gold plating, More refinement | suitable for indoor and outdoor use | Format 37 x 53 x 20 cm (H/W/D) | Weight 8.1 kg | signed certificate of authenticity
Delivery time: approx. 2 weeks
Detailed description
Sculpture "The dog" (2022)
Sculpture "The dog" was made of concrete on a metal base and painted with acrylic paints. An imitation of bronze. The figurative sculpture depicts a greyhound in a playful mood. The sculpture is connected to a metal plate and screwed to the black painted wooden plate. The sculpture is suitable for both indoor and floodplain, for example in the garden.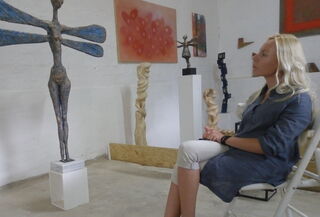 About Ro
I was born, raised in Ukraine. I studied fine arts in Ukraine - in Lugansk and then in Kiev.
Now I live and work as a freelance artist in Germany. My works are permanently exhibited in various exhibitions in Germany and abroad. I make art. It is my way. I paint. I want my paintings to have a warm atmosphere. I put a part of my soul into each of my works. And I want to share it with others. In most cases I create my paintings in a realistic and impressionistic style, rarely decorative. Sometimes I combine these styles. Mainly my paintings are painted with oil on canvas, sometimes watercolor or acrylic. I create nature, landscape, animals, still life and portraits.... I sculpt. With great pleasure I make small or large sculptures and installations in various materials. I realized my ideas of sculpture in large dimensions with my husband Michael Rofka at symposiums and art projects around the world. THANK YOU for visiting my gallery and I really hope you will find something that will catch your attention!