Sonja Neumann:
Picture "Surfer's paradise" (2022)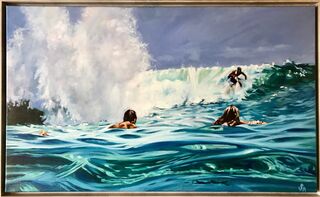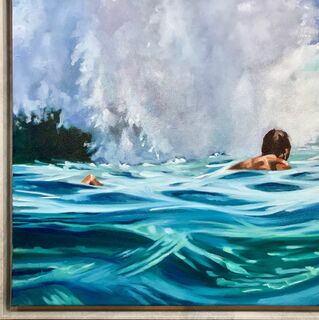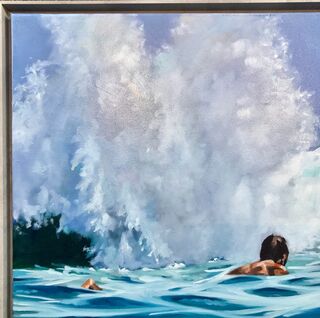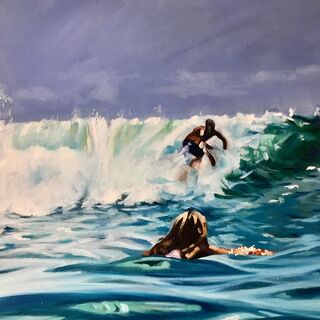 Sonja Neumann:
Picture "Surfer's paradise" (2022)
Quick info
Oil | Canvas, stretched on stretcher frame | framed | Format 65 x 105 cm (H/W) | picture hang up | signed certificate of authenticity
Delivery time: approx. 2 weeks
Detailed description
Picture "Surfer's paradise" (2022)
I was particularly attracted to the clear, calm water in the foreground of the image. Together with the force of the wave, this is a nice contrast within the image. With these maritime, turquoise, blue-green hues you definitely get the good mood in the house! The artwork is framed with a narrow gray shadow colors.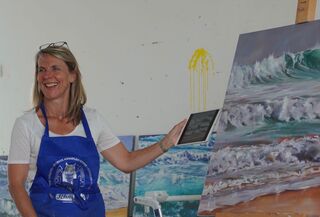 About Sonja Neumann
My name is Sonja Neumann, I am married and mother of three adult sons.
As a competitive athlete, I first studied sports. As my grandfather and father were artistic, I am now continuing this passion in the third generation and have dedicated myself entirely to art since 2005. "Be water my friend". This quote from Bruce Lee is one of my favorites. The formless state of water that adapts to its environment. Water is full of power and energy, strong and stirring. But adapts to its environment and circumstances - and always reaches its destination. Does not fight against the stone, but flows around it and finds new paths. This state of "softness" can also be described as the "flow feeling". Water and flow run like a thread through my projects. Images have a great influence on our feelings, our thinking and ultimately our actions. I paint my pictures for people like you, for whom the own rhythm in life and a holistic philosophy of life is important. Because I want to capture moments for you with my art that remind you to live a life in flow.