su sea:
Picture "Bowie II" (2022)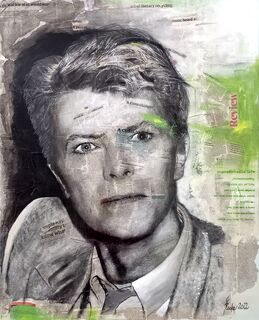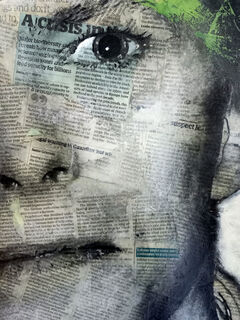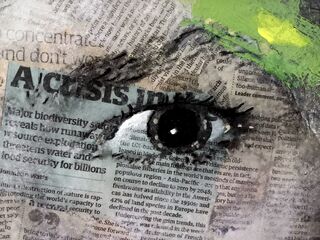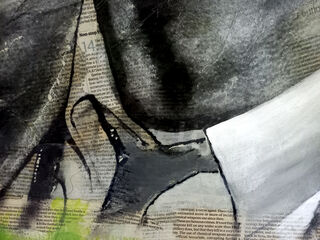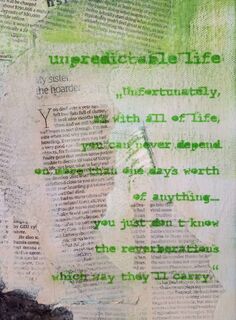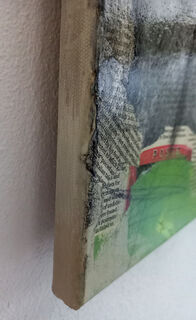 su sea:
Picture "Bowie II" (2022)
Quick info
Acrylic, Coloured Pencil, Other materials | Canvas, stretched on stretcher frame | Format 100 x 80 cm (H/W) | picture hang up | signed certificate of authenticity
Delivery time: approx. 2 weeks
Detailed description
Picture "Bowie II" (2022)
David Bowie, one of the most influential and changeable artists of his time. His inexhaustible creativity and transformability were for me the inspiration for this large-format portrait. The background of the mixed media work consists of the collaged English daily newspaper "the guardian", furthermore acrylic paint, tissue paper and graphite were used for the portrait. The translucent writing of the newspaper in Bowie's face, represents the fusion of the external appearance with our own individual ideology and world of thought. Furthermore, the work contains a quote from an interview with David Bowie (sh. photo details). The image has structure through the newspaper clippings and tissue paper. The varnish used is glossy.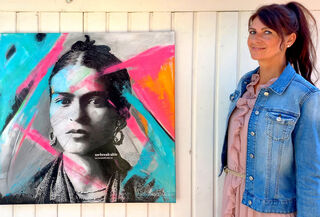 About su sea
My large-format portraits are the result of my inner exploration of the biography and the unique personality of a person.
This explored knowledge flows as a colorful expression of emotions in my works, which are characterized by an individual style between figuration and abstraction. I paint not only what is recognizable at first glance, I am passionately interested in the story behind a person's outward appearance. In addition to studying liberal arts, I completed a degree in social pedagogy. Influenced by these experiences and by my several years of art pedagogical work in a rehabilitation clinic for women, another focus of my painting is the reflection of the role of women in social change. Life paths of strong women become vivid portraits based on themes of femininity, strength and resilience. Winning the first prize of the International Art Award "World Art Award 2023" in the category POP ART, has spurred me to continue to explore this unique style of art. The expressive strong colors with contrasting effect and the "poster-like style" flow into my Pop Art works. An artist who inspires me in this style again and again is James Francis Gill. My landscape painting, on the other hand, is influenced by the breathtaking beauty and vibrant color palette of nature, which I return to regularly for new inspiration. The encounter with the landscape is processed and finds expression as an abstract form of reality in my creative process.