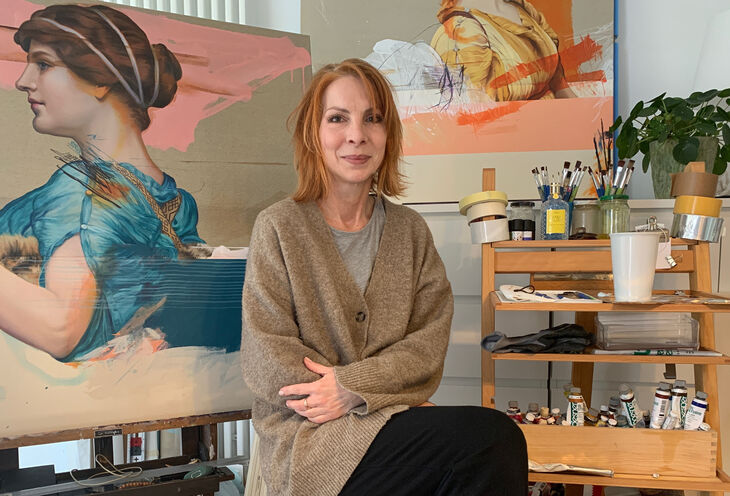 Anja Wülfing
Artistic approach
I work with contrasts and opposites, because two hearts beat in my chest.
One beats for the masters of the Baroque and Rococo, the other for modern abstract painting. In my paintings opposites meet: Figurative meets abstraction; tradition meets progression. For this I combine in each case two different substrates and painting techniques. I sew together fine and coarse canvas fabrics and then paint the classical elements in oil and the abstract with acrylic, pencils and markers. I also work with oppositional contrasts in composition and color - light/dark, dynamic/static, strict/playful, hard/soft, crowded/empty. In doing so, I aim to find balance in the presence of opposites without any one of them dominating the composition. Both styles should compete for attention and at the same time benefit from the presence of the other.

Production
After determining the composition, I first paint all the colored areas in acrylic. Then I add the figures in oil - always, with the greatest respect and humility for the original masterpieces (and definitely less detailed). I try to use all my experience to create plastic bodies - the work is planned and slow. I deal intensively with the story that the original painting tells; with the painter, the person depicted and their lives. In the painting process I invoke the tried and true, the familiar, the slowly grown, the experienced, the old. When the work on the figure is largely completed, I begin to add the free abstract elements with paint, pencils and markers. I combine the "old masters" with the expressive possibilities of modern painting, which can radiate "frequencies" such as sentiment or mood through shapes and colors.

Goals and intentions
I think we all draw incessantly from the experiences and achievements of other people, generations and cultures and combine them with our experiences to our respective reality. I do this with small fragments from the history of art. I draw on them and combine them with my experiences to create a new "presence". As a result, I want to achieve an unconventional balance of styles that shows that rules of art can be left and familiar context can be redefined.
I want to honor the old masters and challenge them at the same time.
Newest Artworks