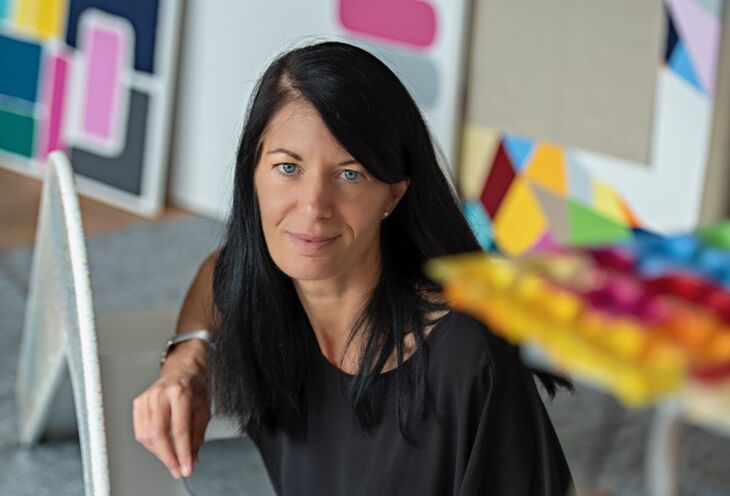 Astrid Stoeppel
Astrid Stoeppel is an internationally known German painter who has already exhibited her works in New York, London, Paris and Milan.
She chooses simple geometric shapes such as circles, dots, lines and color fields. In this way, Stoeppel creates paintings that viewers are encouraged to linger on, always reinterpreting and enjoying them. Minimalism, geometry and bold colors are characteristics of all your series. The works of the Weilheim-born artist can be found in numerous private and public collections in the United States, Australia, Japan, South Korea and throughout Europe.
Structure and the purity of color makes us pause and momentarily forget the complexity of the world!
Newest Artworks
Award
2017
City: Paris
Title: WOMAN ART AWARD- Winner Show Paris 2017
Country: FR
Award type: Art Award

Press
2021
URL: https://artsillustrated.com/astrid-stoeppel-artist/
Title: Artist Interview
Author: Arts Illustrated Magazine

2021
URL: https://blog.singulart.com/de/2021/06/10/5-minuten-mit-astrid-stoeppel/
Title: 5 Minuten mit Astrid Stoeppel
Author: Annika Nein

2017
URL: https://www.merkur.de/lokales/weilheim/astrid-stoeppel-im-portraet-neue-karriere-mit-acryl-7309380.h
Title: Astrid Stoeppel im Porträt
Author: Wahl-Geiger

Exhibition
2022
City: Görlitz
Title: Mondrian in new Spaces / Görlitz Große Galerie
Country: DE

2022
City: Venedig
Title: Venice Art Biennale / MUSA Pavillon
Country: IT

2021
City: New York
Title: Art on Paper Fair / Pier 36
Country: US

2020
City: New York
Title: Clio Art Fair / Manhattan
Country: US

2019
City: Miami
Title: ART BASEL MIAMI / Alessandro Berni Gallery
Country: US

2019
City: Weilheim
Title: Viva i Colori / Oberland Sparkasse
Country: DE

2018
City: Miami
Title: ART BASEL MIAMI / Alessandro Berni Gallery
Country: US

2017
City: Paris
Title: Woman's Essence / Espace Commines Paris
Country: FR

2017
City: New York
Title: The Other Art Fair Brooklyn / Brooklyn Expo Center
Country: US

2016
City: Mailand
Title: Woman's Essence / Hernandez Art Gallery
Country: IT

2015
City: London
Title: Contemporary Painting / Brick Lane Gallery
Country: GB

2014
City: Florenz
Title: Experiments / Galleria Merlino Bottega D'Arte
Country: IT

Permanent exhibition
2021
Title: Chicago Tribune Tower - public space, Chicago, USA

2019
Title: Brian D. Allgood Army Community Hospital, Südkorea

2019
Title: Shirley Ryan AbilityLab, Chicago, IL, USA