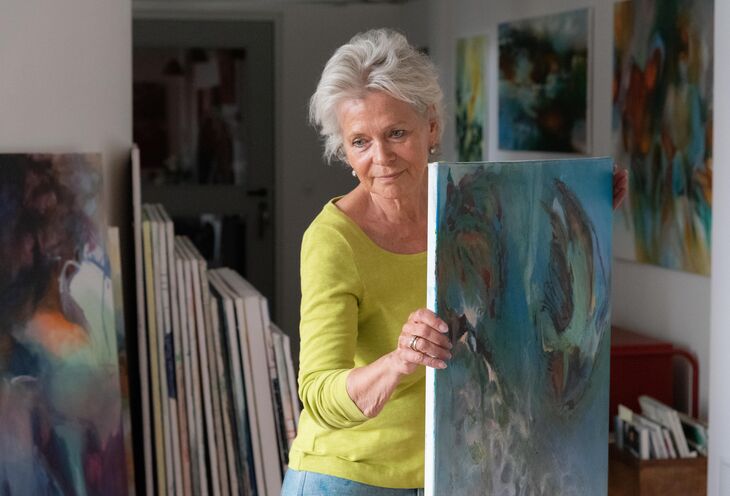 Barbara Münstermann
Barbara Münstermann is a freelance artist. She lives and works in Berlin.
After her studies at the Hochschule der Bildenden Künste Berlin (1992-1995), she attended further training in various art academies:
Etching and printmaking (Salzburg), photography and painting (Bad Reichenhall), free and experimental painting (Augsburg, Trier and Kolbermoor).
From 2018-2022 she studied painting with Prof. Markus Lüpertz at the Academy of Fine Arts in Kolbermoor, graduating as a master student.
Since 2019 she is a member of the art association "Kunst Stuttgart International", the artist community "Spinne" and the art gallery "Iazzu".
Barbara Münstermann is regularly represented with her works in galleries and at trade fairs.

For the artist, nature is an inexhaustible source of inspiration. In her paintings she refers to the most diverse manifestations such as changing light atmospheres, plant forms, landscape formations and water reflections. These are the occasion and starting point for her painting. Here she discovers hidden and fascinating, which she makes visible in her paintings. She finds, invents, condenses, complements and expands what she sees.
She is concerned to take up the discovered natural impressions as an impetus, but then freely develop them further, change them, set new emphases and find their own expression up to the creation of completely new images.
If there were only one truth, one could not paint a hundred pictures about the same subject - Pablo Picasso
Newest Artworks
Exhibition
2023
City: Wiesbaden
Title: Internat. Kunstmesse für zeitgenössische Kunst
Country: DE

2023
City: Berlin
Title: Kühlhaus Berlin - internationale Kunstausstellung
Country: DE

2023
City: Berlin
Title: BAAM - Berlin affordable art market
Country: DE

2023
City: Osnabrück
Title: Internat. Kunstmesse für zeitgenössische Kunst
Country: DE

2023
City: Berlin
Title: Galerie Gräfe art concept
Country: DE

2022
City: München
Title: Mal was Positives - Kunstraum Lot - Spinne.art
Country: DE

2022
City: Miami
Title: Miami Art week - Red Dot Miami
Country: US

2022
City: Düsseldorf
Title: Streifzüge - Landschaftsmalerei ArtRoom Düsseldorf
Country: DE

2022
City: Kolbermoor
Title: Meisterschüler Prof. M.Lüpertz - Abschluss
Country: DE

2021
City: Berlin
Title: Details und Horizonte - Galerie Kunst 40
Country: DE

2021
City: Dreieich
Title: aktuelle Landschaften - Kunstraum Dreieich
Country: DE

2021
City: Stuttgart
Title: Kunst International - Galerie Leonberg
Country: DE

2020
City: Berlin
Title: Friedenskörner - Objekte - St.Canisius Kirche
Country: DE

2019
City: Berlin
Title: wild landscapes - Galerie Kunst 40
Country: DE