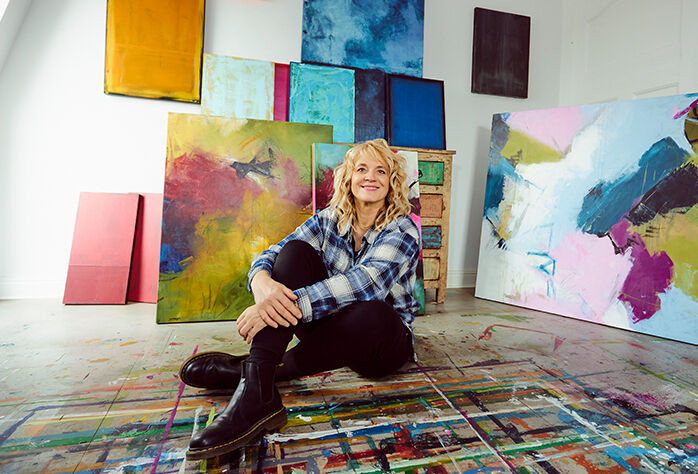 Jana Dettmer
For me, painting is a medium for dealing with myself and at the same time a spiritual and visual offer for viewers.
To achieve this goal, I go back to the zero point, where the traditional conception of the image, the image function is questioned. My painting is often about nothing but pure color, about the canvas as a picture carrier and the picture as an illusionary space. Important are above all factors such as color density, intensity, color quality. The goal is to penetrate to the elemental substance of certain tones, their specific energy. Each work is a color or light space in the sense of an energetically charged setting, in which viewers can immerse themselves mentally in order to sense and experience the power of the colors. Those who remain standing long enough have the feeling of being drawn into the color space of the painting, of being gently absorbed by it.

My works are created in different series of works, including abstract landscapes, monochrome works, gestural abstractions. All united by a great deal of reduced colorfulness to monochrome. Even with the use of different colors usually dominates a leading color.
My abstract landscapes are impressively poetic impressions that arise from their own perception of nature, on the canvas they are pure color abstractions, the viewer:inside, who engage in it, the original nature sensation again become visible.

The partial use of casting resin for the surface treatment of color-reduced works lets the pictures shine and directs the view increasingly into deep color layers. The color is the reflective element that helps amplify sensations and can make visible in pure form. To rediscover the hidden beyond the visible surface is my motivation and my offer to viewers. Through reduction and condensation I create moments of clarity and intensity, fascinating, relieving, liberating. Retreat and reflection for the restless spirit of modern man permanently involved in complex processes.

Whoever manages to pause and trace the interaction of color in the picture surface and in space, will encounter himself.
The freedom to find yourself within yourself is what drives my work and what I offer to others.
Newest Artworks
Exhibition
2023
City: Köln
Title: Ausstellung mit Manuela Pasch, Galerie #art4you
Country: DE

2023
City: Köln
Title: Ausstellung mit Doris Maile, Galerie #art4you
Country: DE

2023
City: Hamburg
Title: Gruppenausstellung Elbgalerie Winter
Country: DE

2023
City: Köln
Title: Discovery Art Fair, mit Galerie KunstStücke
Country: DE

2023
City: New York
Title: Artexpo New York, mit LDX Artodrome Gallery
Country: US

2023
City: München
Title: ARTMUC, mit Galerie KunstStücke
Country: DE

2023
City: Mannheim
Title: Soloausstellung Galerie Böhner
Country: DE

2022
City: Mannheim
Title: Gruppenausstellung Galerie Böhner
Country: DE

2022
City: Leverkusen
Title: Gruppenausstellung Galerie Flow Fine Art
Country: DE

2022
City: Hamburg
Title: Soloausstellung Kraft der Farbe, Elbgalerie Winter
Country: DE

2022
City: Köln
Title: Gruppenausstellung "Die weibl. Sicht auf die Welt"
Country: DE

2022
City: Köln
Title: Discovery Art Fair
Country: DE

2021
City: Brüssel
Title: Art Fair Brüssel, Galerie Böhner
Country: BE

2021
City: Frankfurt
Title: Discovery Art Fair Frankfurt
Country: DE

2021
City: Köln
Title: Gruppenausstellung, KunstStücke art projects
Country: DE

2020
City: Paris
Title: Salons d'art contemporain art3f
Country: FR

2020
City: Madrid
Title: Gruppenausstellung Galeria Gaudi
Country: ES

2020
City: Monaco
Title: salons d'art contemporain, van Gogh Art Gallery
Country: MC

2019
City: Köln
Title: Soloausstellung Kunst im Torhaus
Country: DE

2019
City: Straßburg
Title: St-Art, Foire Européenne d'Art Contemporain
Country: FR

2019
City: Athen
Title: TAS ART FORUM
Country: GR

2018
City: Aachen
Title: Gruppenausstellung Produzentengalerie BB
Country: DE

2018
City: Köln
Title: Gemeinschaftsausstellung, KunsStücke art projects
Country: DE

2017
City: Köln
Title: Soloausstellung Inspiration Natur
Country: DE

2017
City: Köln
Title: Gemeinschaftsausstellung Abstrakte Begegnungen
Country: DE

2017
City: Köln
Title: Soloausstellung Himmelsbilder
Country: DE