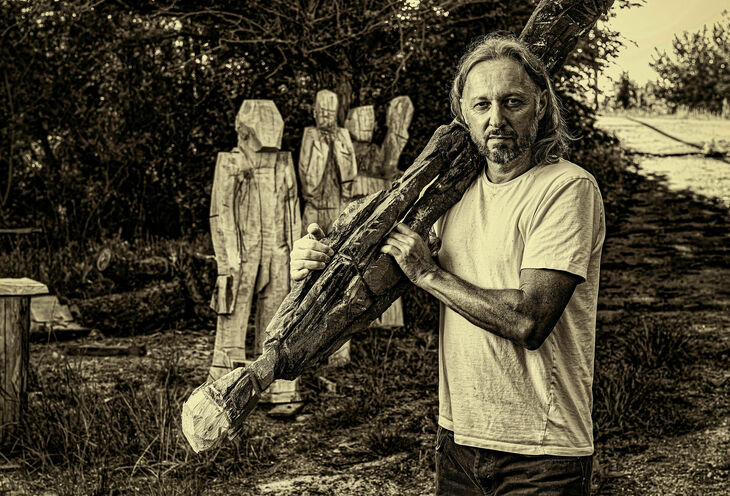 Klaus Schwendner
The focus of my work is the human being. The mostly naked wooden sculptures are neither the age nor a social position readable.
Additional attributes or objects are largely dispensed with, no reference is made to a particular context or context. The wooden works are made almost exclusively with power saws. The figuration of the human body is thereby combined with the visible traces of the production process. The surface, which is usually left rough, is sometimes reworked with paint and counteracts the destructive process of the power saw. My works do not show a classical aesthetic but rather the powerful, archaic language of the material and its properties as well as the untamed and thus more impressive artistic production process. A process in trial and error, characterized by unpredictability and chance, failure, correction and recomposition.
My works are deliberately kept unemotional and leave the viewer all interpretive possibilities open and can serve as a mirror of feelings, desires and hopes. Man once not in the usual, smooth version, as it oozes out of all channels, but idiosyncratic and bizarre, rugged and oblique to the point of grotesque.
My works are not images of human figures but images of ourselves.
Newest Artworks
Exhibition
2023
City: Schrobenhausen
Title: KUNST UND MEHR
Country: DE

2022
City: Regensburg
Title: bei mir bist du schön
Country: DE

2022
City: Wolfstein
Title: Kunst im Denkmal
Country: DE

2021
City: München
Title: beim ersten mal ist es am besten
Country: DE

2020
City: Abensberg
Title: LandMensch
Country: DE

2020
City: Stuttgart
Title: Galerien Haus Open IV, Apokalypse ciao!
Country: DE

2019
City: Chieming
Title: Frauen - Glimmer, Glitzer und Gehörnte
Country: DE

2018
City: Budweis
Title: INTERSALON 2018
Country: CZ

Permanent exhibition
2008
Title: "Wellenspiel" (Kunst am Bau)

2002
Title: "Mauerskulpturen"