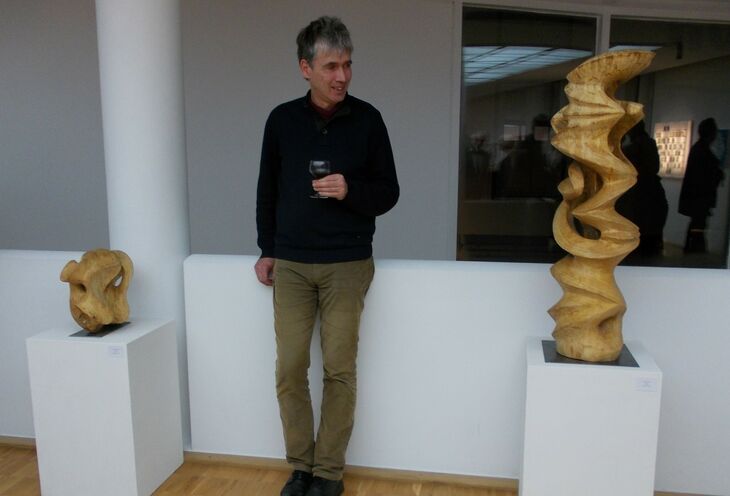 Michael Rofka
Basically, I work in various media, with sculpture or sculpture takes a central role.
Increasingly important, however, are also land art projects on an international level. But I also paint and am musically active. Interdisciplinarity is important to me. Figurative elements are found only exceptionally and if these are rather plant forms. I have always been interested in natural science and nature forms a thematic center. For my sculptures I like to look for stones and wood in nature. However, I use steel or copper and also like to combine materials. The shaping of the sculptures follows on the one hand formal, geometric considerations, on the other hand it is found in a creative artistic work process. I am particularly interested in flow forms.
The meaning of art is to do it. It is an expression of creativity and freedom. That's all it takes.
Newest Artworks
Award
2022
City: Bruchhausen-Vilsen
Title: Kunstpreis Bruchhausen-Vilsen
Country: DE
Award type: Kunstpreis

2018
City: Kriebstein
Title: Kunst am Wasser
Country: DE
Award type: Kunstpreis zusammen mit meiner Frau Anna

2016
City: Trendelburg
Title: Bewegter Wind
Country: DE
Award type: internationaler Kunstpreis (zusammen mit mejner Frau Anna)

2013
City: Oradea
Title: Kingsland
Country: RO
Award type: internationaler Wettbewerb Holzskulptur

2008
City: Köln
Title: Rheinblicke-Einblicke
Country: DE
Award type: internationaler Kunstpreis (Skulptur im Park)

Exhibition
2016
City: Radolfzell
Title: Natursprachen
Country: DE