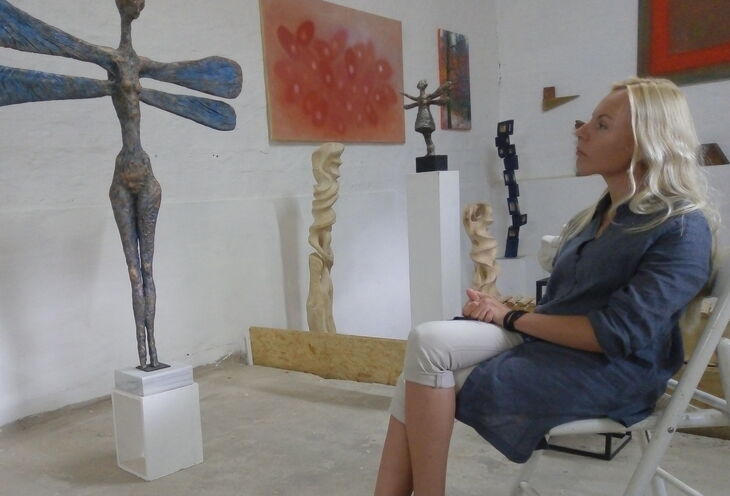 Ro
I was born, raised in Ukraine. I studied fine arts in Ukraine - in Lugansk and then in Kiev.
Now I live and work as a freelance artist in Germany.
My works are permanently exhibited in various exhibitions in Germany and abroad.
I make art.
It is my way.
I paint.
I want my paintings to have a warm atmosphere. I put a part of my soul into each of my works. And I want to share it with others.
In most cases I create my paintings in a realistic and impressionistic style, rarely decorative. Sometimes I combine these styles. Mainly my paintings are painted with oil on canvas, sometimes watercolor or acrylic.
I create nature, landscape, animals, still life and portraits....
I sculpt. With great pleasure I make small or large sculptures and installations in various materials. I realized my ideas of sculpture in large dimensions with my husband Michael Rofka at symposiums and art projects around the world.

THANK YOU for visiting my gallery and I really hope you will find something that will catch your attention!
How much beauty in the world makes the heart happy!
Newest Artworks
Award
2018
City: Kriebstein
Title: "Kunst am Wasser" int. Holzskulpturenwettbewerb
Country: DE
Award type: 2. Preis

2018
City: Berlin
Title: Festival der Kunst aus dem postsowjetischen Raum
Country: DE
Award type: 3. Preis für Skulptur

2016
City: Meersburg
Title: Kunstwettbewerb für gegenst. Malerei und Zeichnung
Country: DE
Award type: Publikumspreis

2016
City: Kassel
Title: 'Bewegter Wind" internationales Windkunstfestival
Country: DE
Award type: 2.Kunstpreis

2006
City: Lugansk
Title: Wettbewerb für Aktzeichnung "Silberner Strich
Country: UA
Award type: Preis für künstlerische Komposition