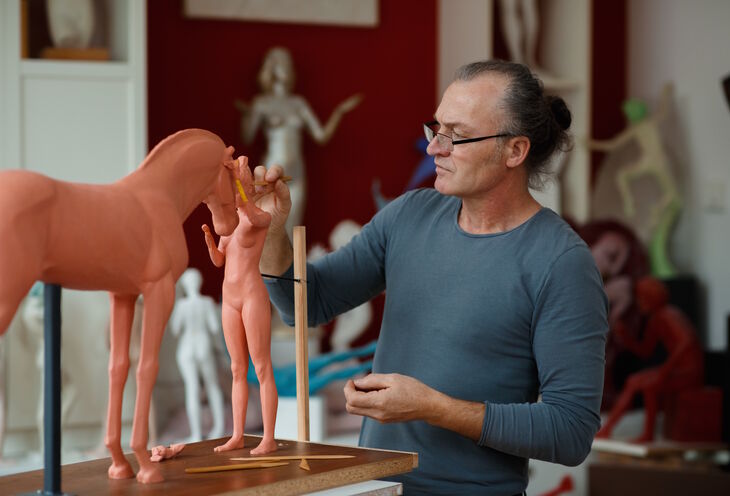 SIME
The painter and sculptor SIME, born in 1968 in Gorica, Croatia, as Mladen Simunovic, belongs to a young generation of artists who have long since ceased to think of the question of traditional ties and modernity as opposites.
Rather, it can be seen in his sculptures that the "old" themes of art are far from exhausted for him: He is always able to gain new, refreshingly subjective perspectives from them.

SIME, who before studying sculpture at the Academy of Fine Arts in Zagreb (1988-1993) underwent training at the Educational Center for Applied Art and Design (1985-1987), likes to form his sculptural work on the basis of numerous preparatory drawings - a process in which, as it were, what later takes on plastic form in clay, plaster, wood or bronze is gradually "formed" on drawing paper.

His sculptures are characterized in particular by their clear forms and their reduced mode of representation. The artist concentrates entirely on the essential features of his motifs and abstracts their characteristic features. At the same time, the naturalness of the proportions is always preserved and the sculptures radiate dynamism and aesthetics.

SIME has been living in Munich since 1999 as a freelance sculptor and member of the Professional Association of Visual Artists. In Croatia he was awarded with several art prizes, recently he had more exhibitions throughout Germany.
Newest Artworks