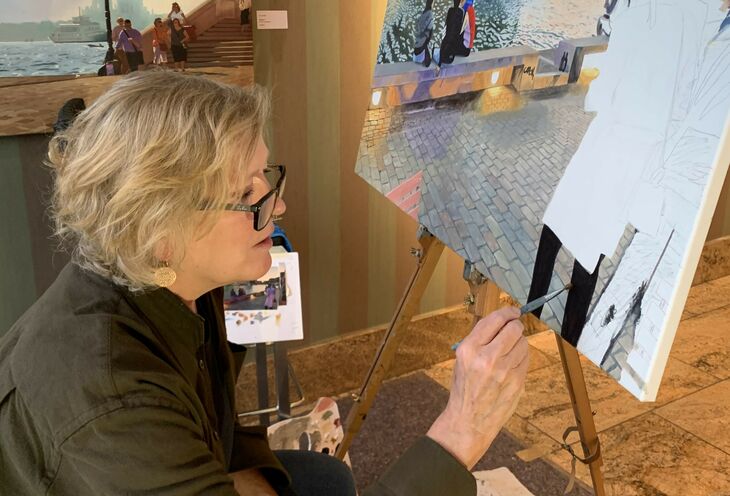 Ulla Kutter
I was born in Hamburg, have a daughter and am married.
After two semesters at the University of Applied Sciences for Design, I switched to training and working in the social sector. Today I work as a painter and as a social worker.
However, I have painted all my life with different means and since 2004 with oil paint. In 2011 I started to exhibit as well. Currently, I have my studio in the Westgate in Altona.
I paint pictures on canvases with oil paints. My motifs are current images painted with an old technique (connect areas, layers, glazes). Photorealism is not my goal, but my own interpretation of a situation.
The focus is on atmosphere, light incidence, colors and an own statement.

Group exhibitions:
St. Pauli 100 angles Millertorgallery 2021
Blankeneser Art Mile April 2021
Turnaround in the Wälderhaus by RENN.nord 2021
Azaros Art Space group exhibition 309 DAYS IN (57 TO GO) 2020
Hamburg Art Gallery in the Gänsemarktpassage 2020
Morgenland Gallery 2017
Open-Air Gallery Berlin 2016, 2017
Alsterart 2015, 2016, 2021
Art Altonale 2011, 2012, 2018
Formart Glinde and others 2012, 2013 and 2015

Solo exhibitions:
2021 City Vibes Gallery Kerstner, Kronberg,Taunus.
Since 2021 represented as an artist at Galerie Kerstner, Kronberg, Taunus
2021 Lichter der Stadt, Pop Up Gallery of the Galerie im Elysee Hamburg
2020 Pop Up Gallery Grindelallee, Hamburg, related exhibition with Ellen Kutter
2019 Gutshaus Glinde Cityscapes
2017 Streetpaintings at the gallery Morgenland Hamburg
2014 Stadt-Land-Fluss at Kulturhaus Eppendorf, Hamburg, Germany
2013 Kutterfrauen exhibition with 2 other artists in Schönberg on the Baltic Sea.

Online Galleries:
Singulart.com and Arsmundi

Since 2021 represented as an artist in the gallery Kerstner, Kronberg im Taunus
The color-sensitive, slow painting is in contrast to the speed of everyday life. I participate in my environment and make art out of it.
Newest Artworks
Press
2020
URL: https://www.mopo.de/hamburg/bevor-sie-verschwindet-malerin-verewigt-die-sternbruecke-in-oel-36733922
Title: Morgenpost Artikel Sternbrücke
Author: Stephanie Lamprecht

Exhibition
2022
City: Hamburg
Title: "Große Freiheit" Galerie im Elysee
Country: DE

2021
City: Kronberg, Taunus
Title: Urban Vibes
Country: DE

2021
City: Hamburg
Title: Knotenpunkte - Wälerhaus Hamburg
Country: DE

2020
City: Hamburg
Title: 309 DAYS IN (57 TO GO)
Country: DE

2017
City: Berlin
Title: Open Air Gallery Berlin
Country: DE

2016
City: Hamburg
Title: Alster Art
Country: DE