Luisi:
Picture "Corona vs. FFP2 mask" (2020)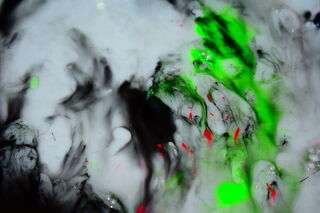 Luisi:
Picture "Corona vs. FFP2 mask" (2020)
Quick info
Other materials, Photo | Format 90 x 140 cm (H/W) | picture hang up | signed certificate of authenticity
Delivery time: approx. 2 weeks
Detailed description
Picture "Corona vs. FFP2 mask" (2020)
Abstract photo art Luisi Snapshot of colors in liquids (coagulation technique) Printed on PVC tarpaulin and stretched on stretcher . After printing, the photo file is watermarked and then deleted so that no 2tes work can be printed. Thus, the originality and the number of a single copy is guaranteed!
About Luisi
Martin Luisi - the color magician With works of abstract painting and photography Martin Luisi deals with the early death of his father.
Growing up as a working-class child in Vienna's Favoriten district, he found his vocation in art, and his original works have and his original works have caused a sensation far beyond Austria. When Martin Luisi has a goal in mind, he marches unswervingly towards it. As a teenager, his dream job was As a teenager, his dream job was car mechanic; today he has two master craftsman's diplomas as a bodywork technician in his pocket. Particularly in sheet metal working, where he nails complex shapes out of from originally flat sheet iron, his extraordinary manual dexterity proved its worth. Luisi's masterpiece, a replica of a Bugatti radiator grille from the 1920s, also impresses with its sculptural quality. even those who are not car enthusiasts. Thus the young craftsman experienced a feeling of profound satisfaction in the face of his successful handmade workpiece - a feeling that would one day become his lifeline in difficult times. anchor in difficult times. The unexpectedly early death of his father plunged the young man into a deep depression. into a deep depression. The pain unleashed an enormous energy that demanded an outlet. Luisi took up paints and brushes and beat his despair onto the canvas with wild gestures. canvas. It was grief work, overcoming pain, a question of survival, he says today. And there it was again, the feeling of deep peace and satisfaction when a painting, a work was completed. A new dimension Autodidact, dreamer, enthusiast, doer - all these attributes are suitable to describe the man and artist Martin Luisi. His curiosity drove and drives him on, beyond the limits and possibilities of painting. possibilities of painting. Among other things, he is helped by a wealth of experience that he has gained both in his learned trade and in painting. He knows how how different liquids behave under certain conditions, how they mix or how they keep from each other, how they "communicate" with or against each other. Luisi experiments with colors, giving the oily and watery juices visible properties and contours, making them blend into one another. and contours, letting them flow into each other and collide. Fascinated, he observes in the viewfinder of his reflex camera the resulting shapes and color gradients. With the press of the the shutter release, the moments freeze in fractions of a second into unique works. Martin Luisi preserves this uniqueness by printing each photograph exactly once and then deleting the original and then deletes the original electronic file. In this way, each of the large-format images is a true one-of-a-kind. unique specimen. It documents a tiny section of the creative process that the artist started in a test tube and then in a test tube and completed with the help of unfathomable physico-chemical influences.