Michael Rofka:
Sculpture "The dream of the birch" (2020)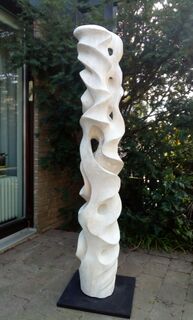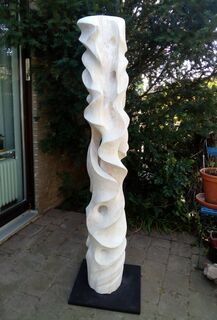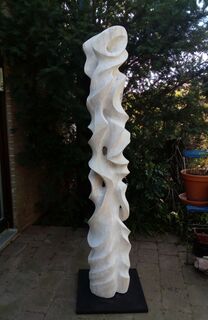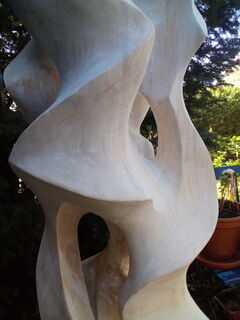 Michael Rofka:
Sculpture "The dream of the birch" (2020)
Quick info
Wood | More refinement | Format 28 x 32 x 172 cm (H/W/D) | Weight 60 kg | signed certificate of authenticity
Delivery time: approx. 2 weeks
Detailed description
Sculpture "The dream of the birch" (2020)
What does a sculptor do when he receives a birch trunk as a gift from a gardener? Of course a sculpture. But the trunk was in a place away from the studio where there was no electricity. The studio on the 2nd floor at that time would also not have been suitable for working on it there. So the artist went with Klüpfel and sculpting irons whenever it was possible to his birch trunk to work on it. It took a whole 2 years until the form was ready. In between moved the sculpture at the new place, also only by hand then invalid finished. It is probably one of the most impressive sculptural works of the artist with its complex, organic flowing form. The wood is stained white. The artist, who always cares about materials, used marble powder for it, which is an additional protection for the birch wood. Despite its size, the sculpture should be placed less outside, because birch is quite fragile. But in a large room si unfolds all its expressive power.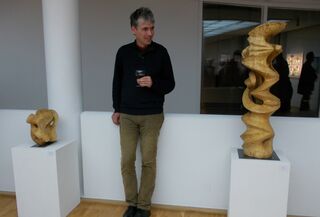 About Michael Rofka
Basically, I work in various media, with sculpture or sculpture takes a central role.
Increasingly important, however, are also land art projects on an international level. But I also paint and am musically active. Interdisciplinarity is important to me. Figurative elements are found only exceptionally and if these are rather plant forms. I have always been interested in natural science and nature forms a thematic center. For my sculptures I like to look for stones and wood in nature. However, I use steel or copper and also like to combine materials. The shaping of the sculptures follows on the one hand formal, geometric considerations, on the other hand it is found in a creative artistic work process. I am particularly interested in flow forms.