Steffen Blunk:
Picture "I know our enemies have really big weapons (but mine are big" (2020)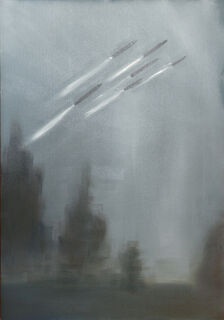 Steffen Blunk:
Picture "I know our enemies have really big weapons (but mine are big" (2020)
Quick info
Oil | Wood | Format 42 x 30 cm (H/W) | picture hang up | signed certificate of authenticity
Delivery time: approx. 2 weeks
Detailed description
Picture "I know our enemies have really big weapons (but mine are big" (2020)
Rearmament, war, egomania, nationalism - ingredients for bad times. The image and the title idea were largely created during Donald Trump's presidency and have only become more topical since then.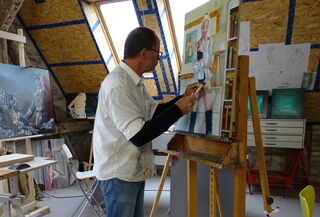 About Steffen Blunk
I came to art late in life: First I was a journalist and entrepreneur, before I studied painting at the age of 42 and thus turned my whole life upside down.
I am grateful for my earlier experiences in other professions; they give me the inner freedom to create art that has something to say. That does not fit into every living room, but to people who have a mind of their own, who do not seek beauty in the decorative and who want to express that with the works they collect.