Susanne Immer:
Sculpture "Hug" (2021)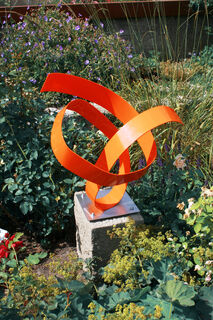 Susanne Immer:
Sculpture "Hug" (2021)
Quick info
Metal | More refinement | suitable for indoor and outdoor use | Format 65 x 60 x 50 cm (H/W/D) | Weight 11 kg | signed certificate of authenticity
Delivery time: approx. 2 weeks
Detailed description
Sculpture "Hug" (2021)
Embrace a gesture of familiarity, affection and friendship but also lovers sometimes feel a distance. The work Embrace is bent from an aluminum strip. The line arcs are always at a distance from each other. The viewer is invited to vibrate the work by touching it. This gives the impression of a brief overcoming of distance, depending on the impulse hesitant, anxious or even brash and determined, until the swinging comes to rest again - and a new impulse, a new impulse creates a new rhythm of movement.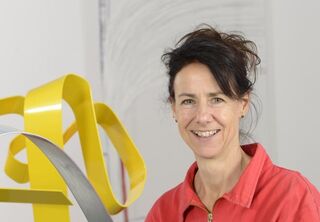 About Susanne Immer
Change and changes over time, is the leitmotif of my artistic work.
I was not interested in the total, but for the concise section, which, however, clearly refers to the whole again. Already during my studies in Braunschweig, disused factories exerted an irresistible attraction on me, especially when remnants of assembly elements could be seen in them. The idea that someone is about to come along, press a button, and everything will start moving. A standstill that can be (re)set in motion by an impulse.