Anja Struck:
Picture "silent together" (2019)


Anja Struck:
Picture "silent together" (2019)
Quick info
Oil | Canvas, stretched on stretcher frame | Format 30 x 110 cm (H/W) | picture hang up | signed certificate of authenticity
Delivery time: approx. 2 weeks
Detailed description
Picture "silent together" (2019)
Two people - are they in conversation with each other? They are standing on a rocky hillside - below them the sea. The sky above the sea yellow-orange. Sunset. The left person can be seen from behind. Her gaze is in the direction of the sea. Is she listening? Is she in conversation? Is she dreaming or just enjoying the evening atmosphere? The person to her right is facing her. She looks at her. Much remains open. The viewer is asked to interpret the situation. It is an intimate togetherness of the two people. The mood of the picture conveys a special depth that touches. A "silent together" of the two people depicted, a "silent together" also between the image and the viewer.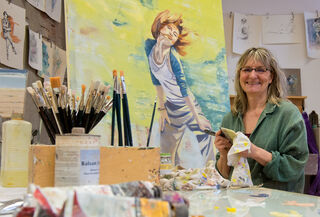 About Anja Struck
Born in 1961 in Hamburg, I studied free painting under Prof.
Harald Duwe at the Muthesius Academy of Fine Arts Kiel. This was followed by art education in Lüneburg and graphic and design in Hamburg. Later, a two-year study with Prof. Markus Lüpertz at the Art Academy Bad Reichenhall was added. In 2013 I received the cultural promotion award of the district of Lüneburg. My works can be seen at numerous exhibitions at home and abroad. Abroad: including America (New York, Miami,Pennsylvania), China (Beijing), Italy(Veneidig), Poland (Katowice), Östereich, Switzerland, Dänemerk Germany: Munich, Isny, Stuttgart, Bad Reichenhall, Berlin, Weilburg, Hilden, Dorsten, Detmold, Hanover, Stade, Hamburg, Lüneburg, Kiel, etc. I live and work in Lüneburg. My studio is in a former distillery, built in 1856. Man and landscape come together in my works to form an overall composition. The play of light and shadow creates liveliness. The dissolution of boundaries, the blurring of motifs and the emergence of blur gives the images something mysterious, it awakens memories and seduces the viewer to dream. This is further supported by a color choice of rather muted, soft colors. As a North German, I love the sea. In numerous works it finds itself thematically again. It creates images with great atmospheric density.