Michael Rofka:
Picture "Yellow third" (2021)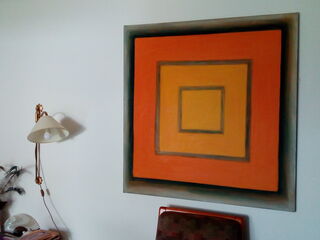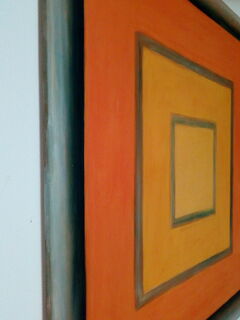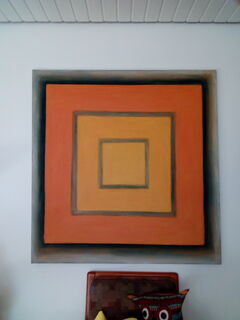 Michael Rofka:
Picture "Yellow third" (2021)
Quick info
Acrylic | Canvas, stretched on stretcher frame | Format 125 x 120 cm (H/W) | picture hang up | signed certificate of authenticity
Delivery time: approx. 2 weeks
Detailed description
Picture "Yellow third" (2021)
In European classical music, there are minor and major thirds that underlie minor and major harmonies, respectively. The artist leaves it to the viewer of this work, whether it can be assigned. In any case, the number of the three yellow-orange squares lying inside each other has something to do with a third. It is a work of the so-called color field painting, in which the expressiveness of the colors are pictorial content. Here the artist has created with this work in numerous layers of color a bright, sunny, intense color experience that creates a warm atmosphere in any room. It is pleasant to look at without being merely decorative. It has no frame and does not need one.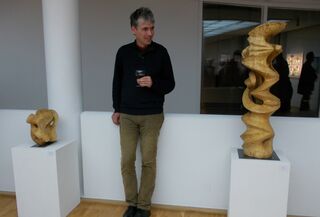 About Michael Rofka
Basically, I work in various media, with sculpture or sculpture takes a central role.
Increasingly important, however, are also land art projects on an international level. But I also paint and am musically active. Interdisciplinarity is important to me. Figurative elements are found only exceptionally and if these are rather plant forms. I have always been interested in natural science and nature forms a thematic center. For my sculptures I like to look for stones and wood in nature. However, I use steel or copper and also like to combine materials. The shaping of the sculptures follows on the one hand formal, geometric considerations, on the other hand it is found in a creative artistic work process. I am particularly interested in flow forms.