Raimund Pallusseck:
Picture "Which port will take me" (2019)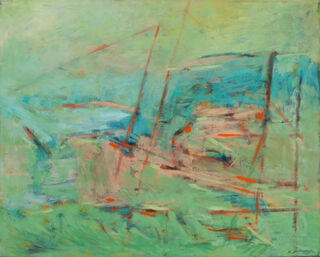 Raimund Pallusseck:
Picture "Which port will take me" (2019)
Quick info
Oil | Canvas, stretched on stretcher frame | Format 80 x 100 cm (H/W) | picture hang up | signed certificate of authenticity
Delivery time: approx. 2 weeks
Detailed description
Picture "Which port will take me" (2019)
Music is Pallusseck's constant companion at work. A working day starts with the music of J.S. Bach. Preferably with the Toccata and Fugue in D minor. Depending on the mood, this is followed by the Mass in B minor or the St. Matthew Passion. His never-ending sources when it comes to form and content. Also, of course, the line of beauty, pure listening. These three great musical works always pose new riddles for him. He demands the same from his pictorial works.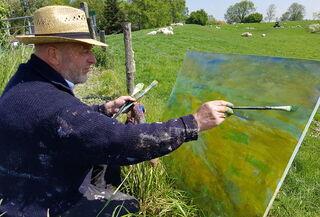 About Raimund Pallusseck
Raimund Pallusseck was born in Cuxhaven. The unmistakable character of this city left a lasting impression on his life: its immediate location on the river, its harsh coastal climate; the exciting hustle and bustle of the fishing port; ships from all over the world.
Since his childhood, the sea has held a special fascination for Pallusseck. In the seventies, Pallusseck signed on as a deckhand on a cargo ship. It was the time of the decision between two passions that determined his life since childhood: art and seafaring. Pallusseck decided against the profession of seafarer and for art. Nevertheless, the passion for the sea and sailing remained. In his works you can always find the longing for departure, for vastness and silence of the endless sea. The relentless sea is reflected in Pallusseck's prints, the logbook of the Acardia, Traven's Ship of the Dead, as well as in Britten's opera "Peter Grimes". Like Pallusseck's prints, his paintings are imbued with the mysteries of the sea. His portfolio works can be found in the collections of the - of the Museum für Kunst- und Gewerbe, Hamburg - the German National Library, Leipzig - the German National Library, Frankfurt - the Herzog August Library, Wolfenbüttel - the Lower Saxony State Library, Hanover - the Coburg State Library - the Fontane Archive, Potsdam - the German Maritime Museum, Bremerhaven