Susanne Pohlmann:
Picture "Deep Water 1" (2020)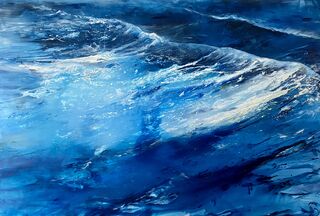 Susanne Pohlmann:
Picture "Deep Water 1" (2020)
Quick info
Acrylic | Canvas, stretched on stretcher frame | Format 200 x 290 cm (H/W) | picture hang up | signed certificate of authenticity
Delivery time: approx. 2 weeks
Detailed description
Picture "Deep Water 1" (2020)
"Deep Water" is a series of large formats by the artist. The idea for this was born on the Pacific Ocean in California. The colors, the light, the depth and the power of the ocean have touched Susanne Pohlmann there very much and inspired to this work. You can get an impression of this to this picture.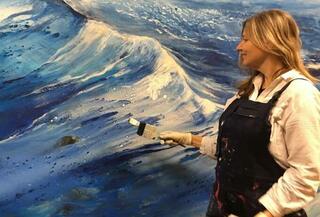 About Susanne Pohlmann
It flows, it flies, it flutters - in the large-format paintings of Susanne Pohlmann, movement can be seen, which at the same time transmits balance and release to the viewer.
With strong colors and an impasto application of paint, the artist shows us her unmistakable style: Susanne Pohlmann works in the surface, not in the line; that makes her work so remarkably interesting. Representational is reproduced, but not in the actual, naturalistic form, but as the artist perceives it - she shows the effect on her own sensibilities, namely expressive and moving. Susanne Pohlmann seeks the elemental and unchanging behind changeable places and situations. Numerous travels and encounters with other people and places have shown the painter how strongly nature and culture are interwoven and shaped by each other. The simultaneous localization of dynamics and tranquility in her paintings creates a basic mood that is also transferred to the viewer. One of the artist's main themes are seascapes. Constantly changing and transient, always only snapshots, they are nevertheless symbols of the timeless and imperishable and convey the simultaneity of tranquility and movement. In her series shown on the theme "Ocean of Desire - An Ocean Full of Desire", the experience of nature is shown in its various dimensions. It is important to the artist to show only excerpts to allow the viewer space for individual additions. Due to the accentuated application of paint, the sprayed-white sea spray seems to emerge from the picture. The horizontal lines of the sea surface break on the verticals of the shoreline and thus draw the viewer into the emerging dynamics of the image. The freelance artist and trained educator Susanne Pohlmann lives in Berlin. After graduating in social work and social pedagogy, she continued her studies in fine arts at the University of Applied Sciences in the field of art and design in Hanover. In addition to numerous solo and group exhibitions, in which she has presented her works since 2001, Pohlmann has led numerous painting and vacation courses for more than 30 years and offers painting trips for children, young people and adults in Germany and abroad.