Anne Samson:
Picture "North Sea Morning" (2022)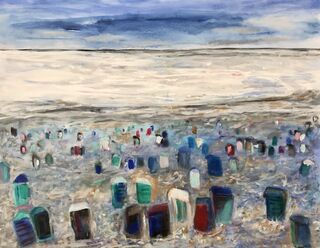 Anne Samson:
Picture "North Sea Morning" (2022)
Quick info
Acrylic | Canvas | Format 70 x 90 cm (H/W) | picture hang up | signed certificate of authenticity
Delivery time: approx. 2 weeks
Detailed description
Picture "North Sea Morning" (2022)
This is the magnificent North Sea, the wet beach, the beach houses, the shine on the wide water, the blue, transparent sky. It's still deserted, a quiet morning by the sea. Unbeatable. Beautiful. Cool the air, the atmosphere relaxed, soon the many children, the tourists come in droves to the seashore. Then I will retire and have my morning coffee. Let the others enjoy themselves on the beach, I paint in my quiet room. This work is inspired by Borkum, the pretty North Sea island where I am often and which always inspires me, especially in the morning when it is still very quiet.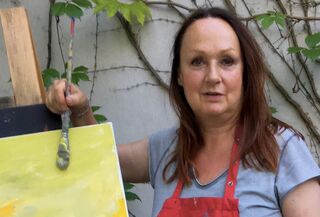 About Anne Samson
Painting is my passion and over the years has become my purpose in life.
My pictures are very different and I consciously do not commit myself to a particular style. This is because I am constantly realizing new ideas. So the work always remains exciting. My floral paintings are full of power and beauty. The colors must shine and radiate, that is very important to me, because the images should be beautiful and cheerful. But there are also quiet and restrained works in pastel tones. Very much I like to paint abstract, although I prefer larger formats. Here my inspiration is the painting process itself, from which in the course of (working) days the motif, the composition develops step by step.