Gary Westall:
Picture "Nude with garter" after Adolf Erbslöh 1881-1947" (2022)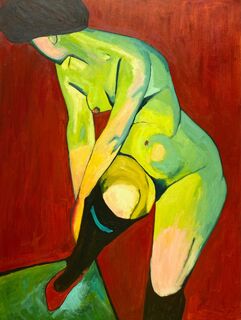 Gary Westall:
Picture "Nude with garter" after Adolf Erbslöh 1881-1947" (2022)
Quick info
Oil | Linen, Panel | Format 80 x 60 cm (H/W) | signed certificate of authenticity
Delivery time: approx. 2 weeks
Detailed description
Picture "Nude with garter" after Adolf Erbslöh 1881-1947" (2022)
This picture is a copy of Adolf Erbslöh "Nude with Garter" 1909. I discovered the picture in a calendar and it unleashed me, I had to paint it. I love the play of colors between the complementary colors. Painting the picture was huge fun and gave me a lot of pleasure.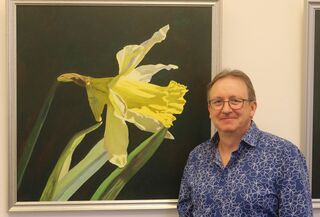 About Gary Westall
Born in London in 1960 and resident in Germany since 1982.
I am self-taught and constantly expanding my education and knowledge by regularly attending workshops and trainings in Germany as well as in England. Painting has fundamentally changed my life. There is not a day without me being engaged in some form of painting. For me painting is the breath to life. I would like to animate with my art, people to look more closely. A tree is not only brown and green! I believe that if the view is consciously directed to the objects of nature, you get such a reverence for your beauty and all your diversity that you do not dare to destroy it by war, abuse and overexploitation, but protect and respect it.