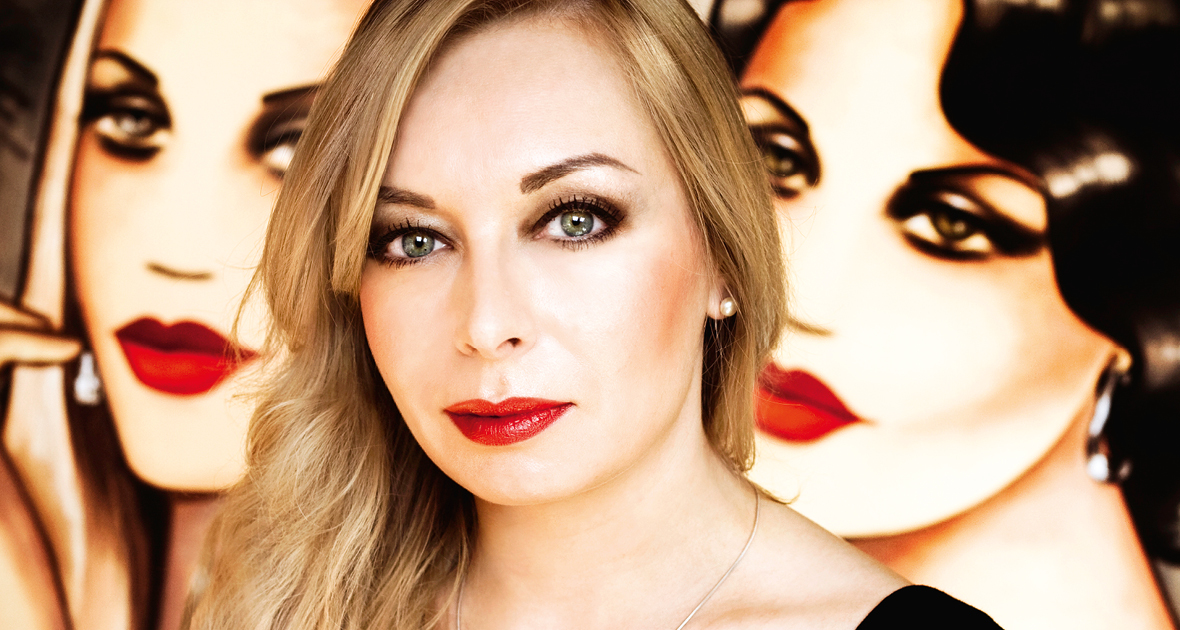 A Day in the Studio of Artist Ekaterina Moré
Ekaterina Moré was born in Saint Petersburg, Russia, and has lived and worked in Germany since 1995. By now, her paintings can be found in Europe's most renowned galleries and adorn glass and porcelain.
She has dedicated her art to women in the modern world like hardly any other artist. Colourful, sensual and erotic - Ekaterina Moré's paintings spread strong positive energy and are a compliment for every woman. The femininity in her art represents the expression of feelings and emotions - the symbol of the soul.
We visited Ms Ekaterina Moré in Meerbusch, Germany, and accompanied her for one day. We talked to the artist about her journey to becoming an artist and her current work.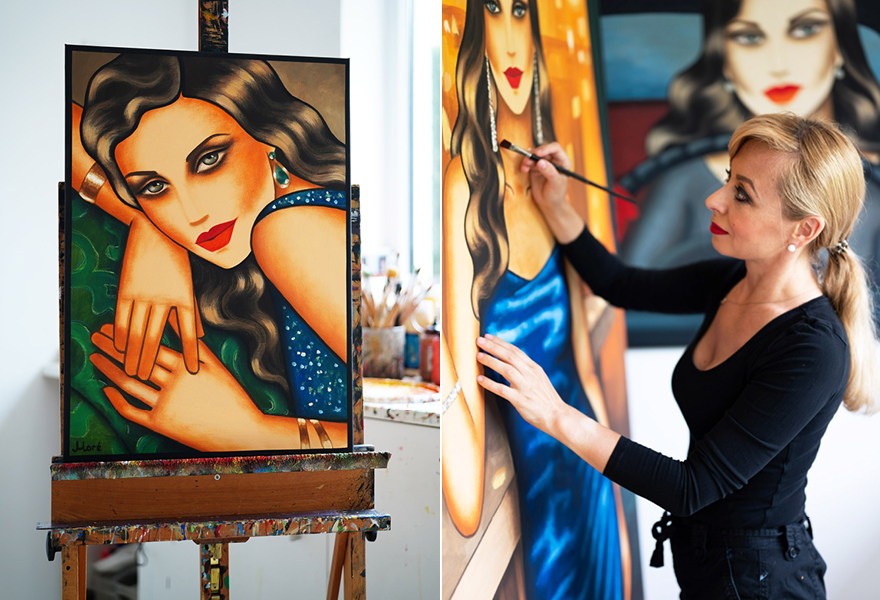 How did you discover art?
I grew up in a family where art occupied a very important part of life. My grandfather studied at the renowned art academy in Leningrad (now Saint Petersburg), and my parents were also always creatively active. For me, it was natural to be involved with art.
When did you know that you wanted to become an artist?
In Russia, I first studied law because I wanted to do something down-to-earth. It wasn't easy to be an artist in Russia. I experienced a lot of chaos and drama in my childhood, so I actually wanted to bring more order and security into my life. At the age of 18, I fell in love and came to Germany to live with my husband.
Fortunately, my life in Germany inspired me a lot to dedicate myself to my art. My husband was very supportive along the way, and my paintings resonated with people. So I knew early on that art was my calling.
What inspires you?
I am very inspired by the theme of female beauty. I believe that it is very important for women to feel valued, beautiful and confident. Often women are not able to fully develop themselves, and I want to send positive signals with my art. In my work, I address different facets of femininity and, above all, depict the divine power that is inherent in every woman. My intention is to portray women as goddesses - strong, self-confident and very feminine.
Which artist had the greatest influence on you and your work?
As a child, I often visited the Hermitage Museum in Leningrad and was fascinated by the works of the Impressionists. I was particularly fascinated by the colourfulness of Impressionist art. I was absolutely fascinated by the colours in the works of Paul Gauguin, Vincent van Gogh and Pierre-Auguste Renoir. I also thought the depiction of women in Impressionist paintings of the time was very poetic and inspiring.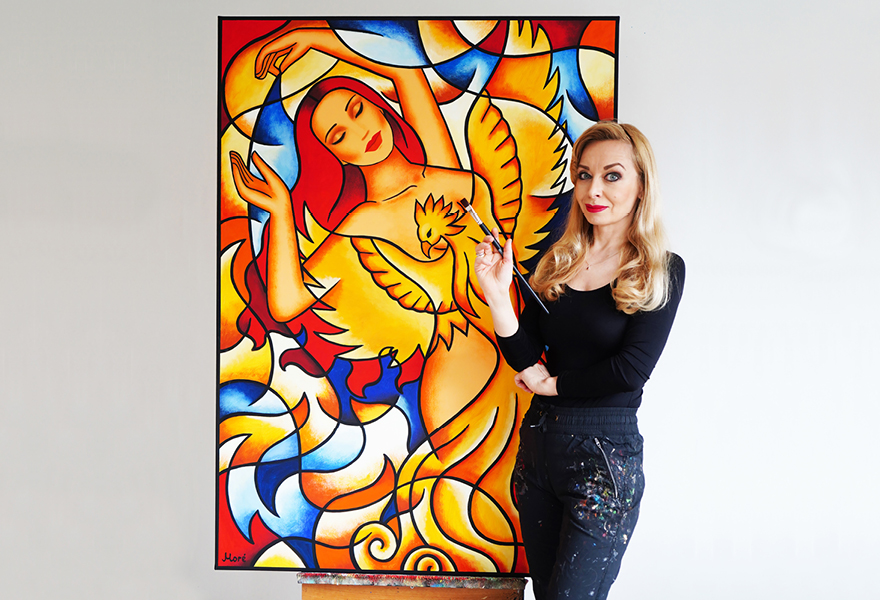 Where do you prefer to paint?
I prefer to work in my studio because I have set it up exactly according to my artistic needs. I have a beautiful northern light in my studio, which is very nice to work in. My studio is located in the same house where I live, so I can work whenever I want.
What does a typical day in your artistic life look like?
I like to work early in the morning because at that time I am most productive. While painting, I like listening to audiobooks or music, and I enjoy this time a lot. Often I am so absorbed in my work that I don't notice how quickly time passes. In the evenings, I often work on sketches, write texts and develop new projects.
Which material and techniques do you prefer to use?
I have become very fond of acrylic paints. I appreciate these colours for their luminosity and fast drying. Besides, in that way, I don't need to touch toxic substances like turpentine. You can work with acrylic paints on very different surfaces, whether on canvas, paper or wood. I also like that very much.
What was your most beautiful experience?
I think that one of the most beautiful experiences in my life as an artist was when my first works were sold over 20 years ago. At that time, I offered my first works on paper through an online auction, and I was very pleased that people found my art interesting and were willing to buy it back then. I am immensely grateful that these people enjoyed my art at that time. This built me as an artist, and since then I have started to work very intensively.
What advice would you give to young artists who are just beginning?
It is important to develop your own language in art. Of course, especially in the beginning, you try to imitate the works of other artists when learning the techniques. But it is extremely important to look for your own themes and ways of expression. This is how you develop not only as an artist but also as a person. Don't be afraid to make something of your own and to go your own way. The world benefits when people develop their uniqueness!
Have you discovered another artist on artSOLITAIRE whose work you admire?
I have started the video project "Unter Künstlern" (englisch: "Among Artists"), where I interview different artists. Many artists are afraid or apprehensive to talk about their work. That's why I wanted to create a platform where we can talk about issues that move us. I have already interviewed artists such as Marina Krasnitskaya and Robert Hettich, whose work I value very much.
What do you think you would be doing today if you hadn't become an artist?
It is hard for me to imagine a universe in which I am not an artist. I believe that it is simply my vocation and that I can develop many other skills when I work as an artist. I write texts, shoot videos, interview other artists and create books and colouring books - the activities of an artist can be very versatile, so I don't miss being able to do another job.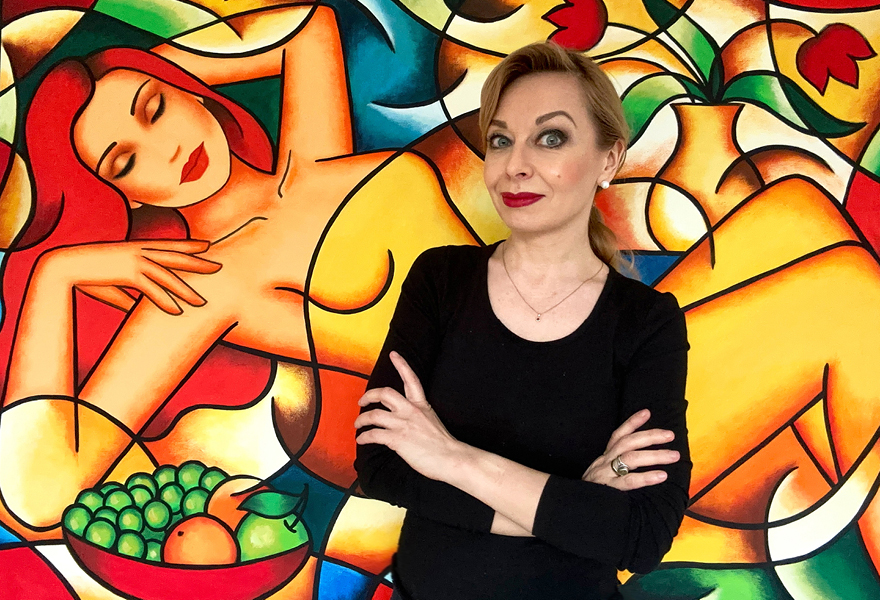 Do you have a favourite museum? If so, which one and why?
The Hermitage Museum in Saint Petersburg is still one of my favourite museums. I think my fond childhood memories and my enthusiasm for art certainly are linked to the treasures of that museum. Even as a child, I perceived the museum as a wonderful fairy-tale castle that was incredibly magical and inspiring.
Do you have a current favourite piece of art among your works?
With all my works that I send into the world, I associate beautiful memories. I think of the time I created them, the inspiring audiobook I listened to or the beautiful music that accompanied me. I don't just focus on my current favourites but on all the ideas I want to implement. It does make me happy when each painting finds a new home and brings joy to people.
Which exhibition or award are you particularly proud of? And are you currently planning an exhibition?
I am very excited that after a break due to the pandemic, artist trips with AIDA Cruises are taking place again. My paintings will be exhibited in the galleries of the AIDA fleet and I am looking forward to my artist events during the voyages. There, I paint live on stage, talk about my art and have interactions with customers and interested people. For me, these artist trips are very inspiring!
What do you wish for in the future? What are your aspirations and goals?
I have the vision to bring the appreciation of feminine power closer to people with the help of my art. I hope that people will thereby encounter themselves and their environment with more love and acceptance. I would very much like to bring my colourful motifs to oversized surfaces so that the effect of colours and feminine sensuality can be shown to an even greater advantage. Because I am convinced that beauty has a healing effect.
Thank you for the interview!
Discover all the pictures by Ekaterina Moré on artSOLITAIRE.de now.