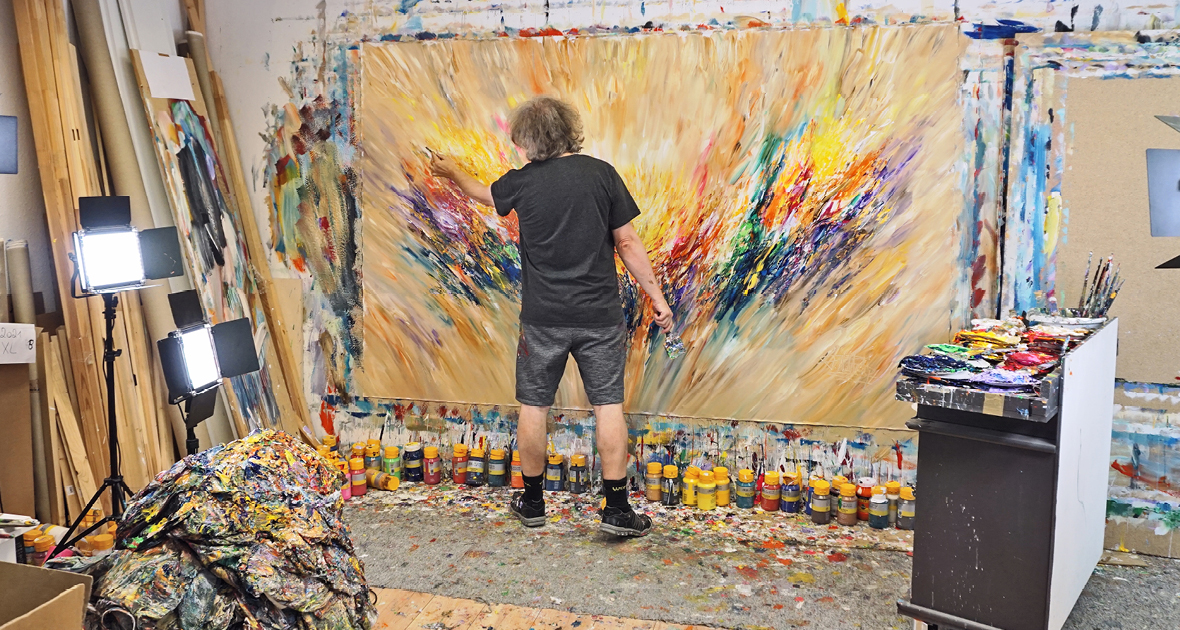 A Day in the Studio of Artist Peter Nottrott
Peter Nottrott is a passionate painter. His extreme creative power is an almost inexhaustible source of abstract colour compositions. Colours and forms develop under his brushstrokes to create positive and dynamic, often powerful artworks - all with remarkable inner stability and serenity. His courage and sense of development propel him, as well as his paintings, forward.
We visited Peter Nottrott's studio and accompanied him for one day. His studio is located in a charming old building right in the pedestrian zone of Flensburg's city centre. We talked to him about his path to art and his daily life as an artist.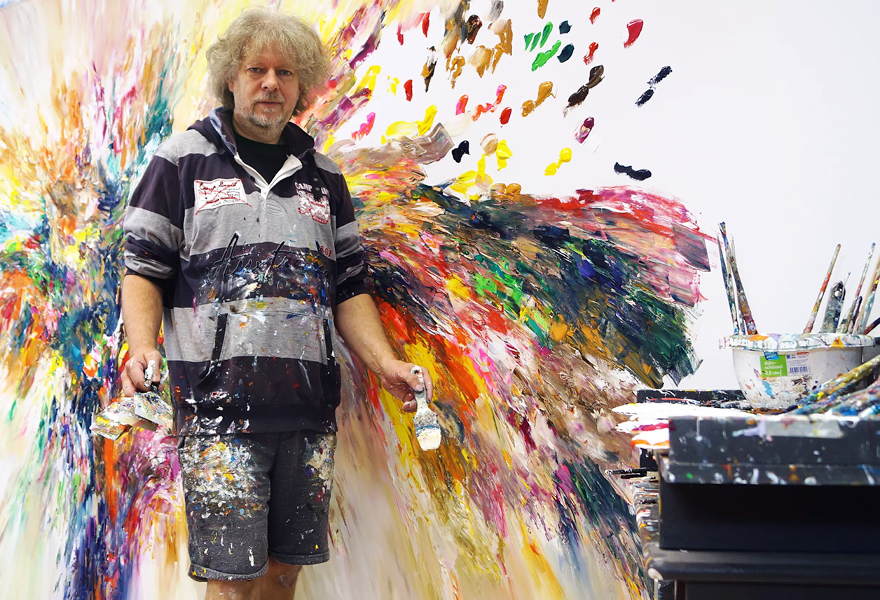 Mr Peter Nottrott, how did you become interested in art?
My father certainly played a significant role. He was very creative and wanted to become an artist himself but decided to become a - creative - pastor due to the greater difficulties at that time. He spread a lot of creativity in his family and supported the creativity in us children.
When did you know that you wanted to become an artist?
That was probably between the ages of 16 and 18 - painting played an increasingly important role in my life, and the first small earnings started to develop.
What inspires you?
Many walks in nature lead to initial inspirations on how I want to combine colours and forms. Additionally, I have a good ability to dream, which interestingly allows me to disregard the laws of space and time. And I like to play music while painting, usually meditative and inspiring music.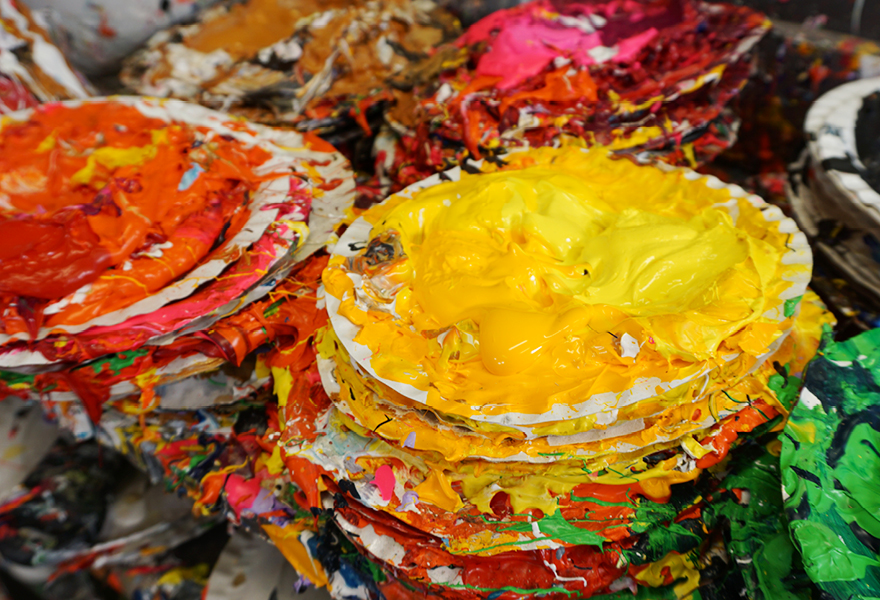 Which artist has had the greatest influence on you and your work?
There are actually three that come to mind: van Gogh, Monet, and Nolde.
Vincent van Gogh impresses me because of his authentic painting style, which was very important to him. With Monet, I find it remarkable that his focus was not on the realistic motif but on expressing the feeling towards the motif. With Nolde, I particularly like the intensity of the colours.
Where do you prefer to paint? What does a typical day in your life as an artist look like?
I prefer my studio for painting; it is part of a great community of artists and is located in a beautiful old building directly in the pedestrian zone of Flensburg's city centre. When I enter my large studio, which consists of two rooms and additional storage space, drinking coffee together with my studio neighbour, a goldsmith, is an important step on the way to the canvas.
The canvas is in my painting area, which is essentially the heart of the studio. I have space there for paintings up to a maximum size of 10 square meters. It is also important to always have something good to snack on in the studio; it contributes to a positive atmosphere. Then I can enter the creative process in the best way.
When I feel comfortable and balanced in the studio, I can concentrate all my energy and creativity on painting. And if it turns out well, the positive energy is reflected in the painted image.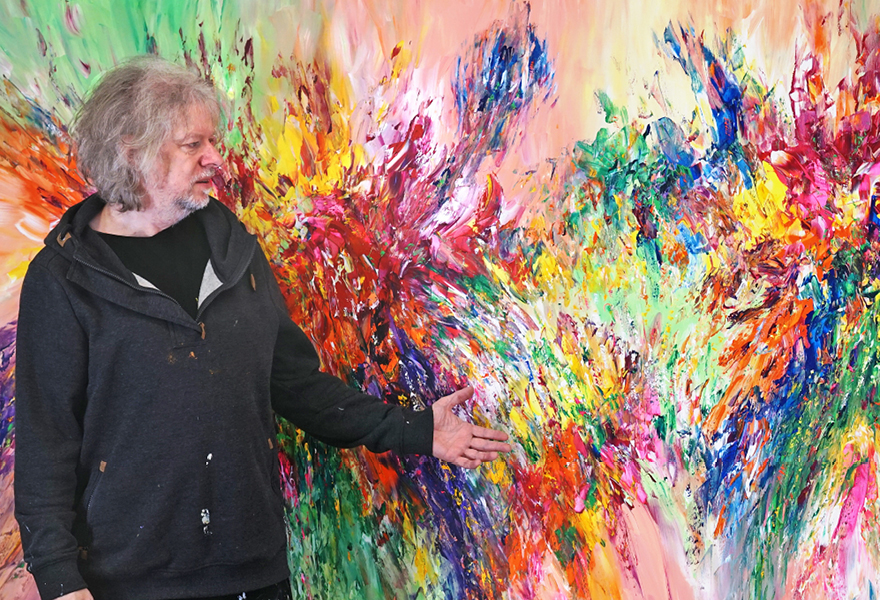 Which material and techniques do you prefer to use?
I have focused on acrylic and canvas, and I use brushes and spatulas. Additionally, I have recently painted a few oil paintings.
What was your most memorable experience?
The birth of our daughter.
What advice would you give to young artists who are just starting out?
Develop a distinctive style that suits you and keep your goal in mind! Becoming an artist is often a difficult and long journey, and it is important to learn from the problems that arise. This requires a great deal of perseverance.
Have you discovered another artist on artSOLITAIRE whose work you admire?
That's not so easy - I particularly remember the landscape paintings by Irina Laube. On one hand, I enjoy the emotionally evocative and slightly dreamlike moments, and on the other hand, the vastness of the landscapes. I think the abstraction in Irina Laube's work is highly successful.
What do you think you would be doing today if you hadn't become an artist?
I could imagine being an art therapist for children.
Do you have a favourite museum? If so, which one and why?
I like the small Nolde Museum in Seebüll, along with its corresponding garden, where I like to round off the exhibition visit with coffee and a delicious piece of cake. The colour choices and the intensity of colours in the exhibited Nolde paintings fascinate me. Additionally, it is a museum in close proximity, featuring a quasi-regional painter from the German-Danish border region, and the exhibition has a more personal character.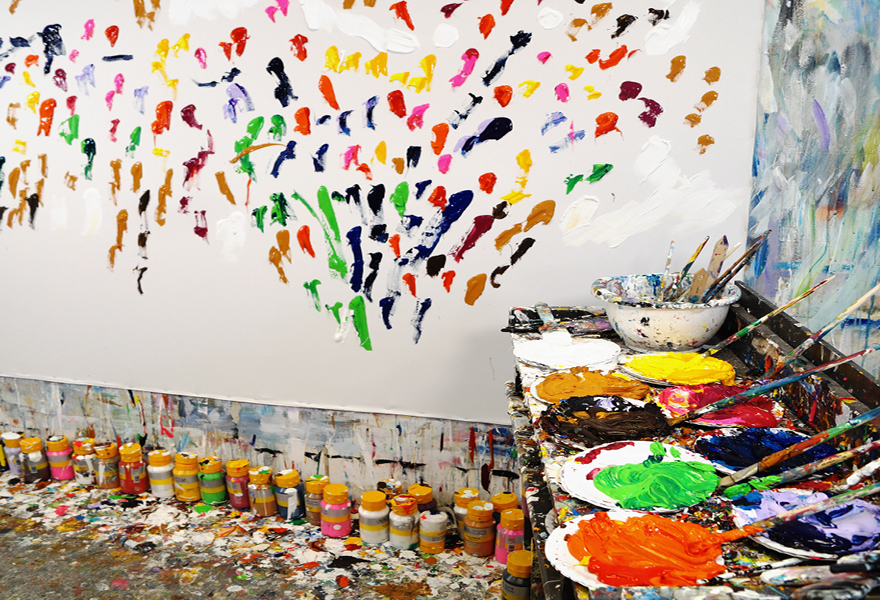 Do you have a current favourite among your works?
Symphony Of Spring XXXL 1, acrylic on canvas / painted 2023
The enormous size of 240 x 150 cm is one of my favourites. I particularly enjoy painting on a large surface. It allows me to express even more dynamism, vitality, and energy. I painted the picture this year. I think spring is magnificent: With the power of spring, life sprouts again, buds and fresh greenery everywhere, it becomes warmer and more colourful. It's as if with the arrival of spring, there is a greater sense of lightness in the air. I have abstracted this experience of spring and translated it into colours: arranging orange, green, blue, violet, white, lilac, and magenta, pink, and yellow tones in a floral character. The colours enhance each other, resulting in a refreshing, joyous symphony of spring in colours.
Which exhibition or award are you particularly proud of? Or are you currently planning an exhibition?
I look back with satisfaction on a solo exhibition in 2015 in the Barockschloss in Neschwitz, Germany. It was a very extraordinary, historical setting for my abstract paintings, and the organization was very nice and personal.
Do you have any wishes for your future? What are your aspirations and goals?
I would like to paint many more colour symphonies ... vibrant, full of energy and positivity. Since I'm not as young as I used to be, I actually wish to be able to paint for a long time. I love combining colours and forms.
Thank you for the interview!
Discover now all works of the artist Peter Nottrott on artSOLITAIRE.de.